Kapoor & son
Showman Raj Kapoor celebrated every wedding with signature style, ensuring that every important person was on his guest list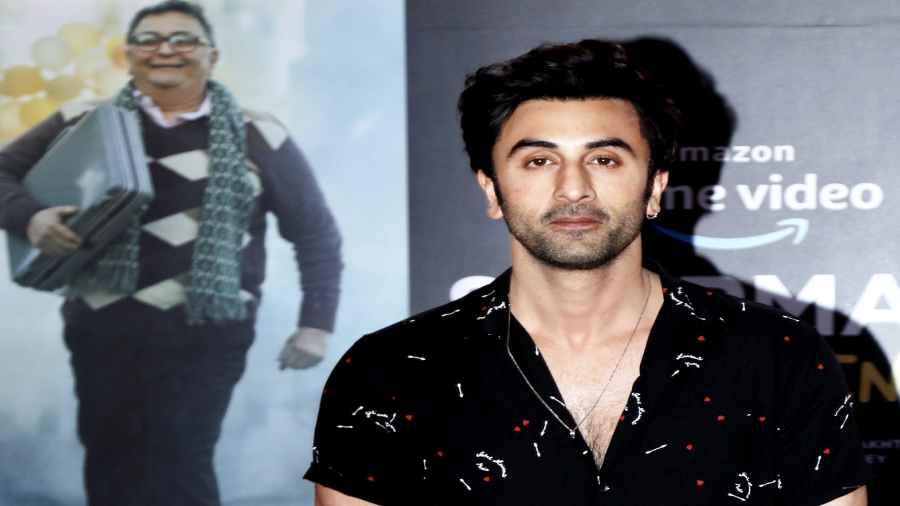 Ranbir Kapoor during promotion of the film 'Sharmaji Namkeen' in Mumbai
PTI
---
Published 10.04.22, 01:06 AM
|
---
We Kapoors shout from the rooftops when we get married." That's what Rishi Kapoor had said before he wed Neetu in January 1980. His father Raj Kapoor wouldn't have had it any other way. And RK always had the biggest say in how a Kapoor wedding would be performed.
Rishi was a star in his own right but the ceremony and celebrations were hosted by his father with his inimitable flair for a grand show. Whether giving an invite to a gossip columnist bridegroom Rishi wasn't on talking terms with or turning the RK part of Chembur into a land of glitter, Raj Kapoor had every part extensively covered. Including the part where a robust Punjabi actor got drunk and Vinod Khanna had to smartly whisk him away. Or where the bride fainted.
In his lifetime, showman Raj Kapoor celebrated every wedding with signature style, ensuring that every important person was on his guest list. When older son Randhir and Babita wed in 1971, my father-in-law was the commissioner of police. His car was driven right up to the stage where RK came down to welcome him with a namaste. "Krishna, Pradhan saab," he introduced the commissioner to his wife.
That was the kind of attention he paid to every detail. 
Once he departed from the show at age 63, eldest son Randhir stepped in. It was under his supervision that sister Rima wed businessman Manoj Jain and brother Rajiv (Chimpu) had an arranged marriage with Aarti Sabarwal. Next was daughter Karisma, who too wed at RK. "That's Babita staking claims to the RK property," a senior Kapoor had chuckled.
But Randhir, more entitled than hardworking, did not have his father's personal touch as a host. At one of the weddings, when the food ran out, a veteran hotelier had remarked, "This would have never happened if Raj Kapoor had been alive."
Rishi with Neetu alongside was a better organiser who laid out a splendid wedding for daughter Riddhima in 2006, welcoming and making every guest feel special. Rishi was the hearty host and Ranbir the humble one who pitched in to be the bride's perfect brother. His debut film Saawariya was yet to be released and heroine Sonam Kapoor had dramatically hidden behind trees because Sanjay Leela Bhansali didn't want his lead pair exposed before he presented them to the public. Incidentally, Sonam is due to deliver her first baby between August and September. 
Riddhima's wedding had Rishi put his best foot forward. But towards the end of his life, he accepted that Ranbir's would be different — he wouldn't be the one calling the shots. Rishi had learnt his lesson the hard way after he burst a blood vessel at an episode of Koffee With Karan, where Sonam and Deepika had jauntily poked fun at Ranbir. "No Kapoor will work with Dharma Productions again," he had announced, little knowing that niece Kareena and Ranbir were on the hotline to Karan. Rishi had to not only eat his words, he also went on to work in films like Agneepath and Kapoor & Sons.
Rishi, who frequently spouted "Jai Mata Di", was vastly different from Alia's father Mahesh Bhatt. One of the last visuals of Rishi was during the first lockdown in March 2020, when he happily banged a utensil on his balcony in response to the Prime Minister's call to show appreciation for frontline workers. Mahesh on the other hand is a known Modi hater.
Mahesh also refused to attend daughter Pooja's wedding because she wed in a temple and he wouldn't set foot inside one. He is a more mellow man today and will be the dutiful father of the bride next week. But a hearty party host he is not.
Without Rishi and the colourful Kapoor openness, the Ranbir-Alia nuptials will be different. The groom himself is a reticent celebrity who can barely bring himself to pose for the paparazzi on the red carpet.
And so the show will continue but now only on screen.