Beyond cheery pop
Ed Sheeran grows up on his latest album while appreciating that his career is now 'less about more, more, bigger, bigger'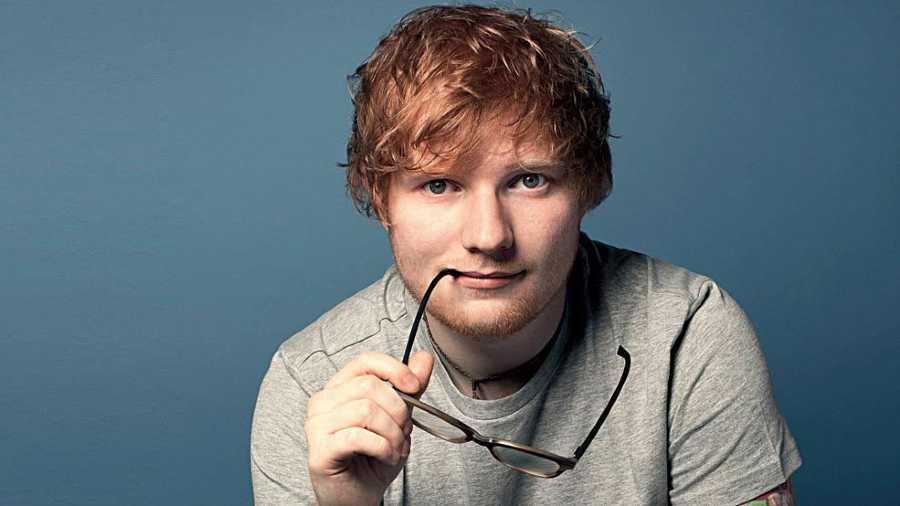 Two recent defining moments for Ed Sheeran have been the birth of his daughter, Lyra, and the death of his friend, Michael Gudinsk
---
Published 07.11.21, 03:51 AM
|
---
Lashing guitars greet listeners to Ed Sheeran's latest musical fest, titled '=' (or 'Equals'), with the 30-year-old making it clear where he stands on the kick-off track (Tides): I have grown up, I am a father now/ Everything has changed, but I am still the same somehow. And though "getting out of my mind" is still a part of his life, there is also the feeling of embarrassment: 'bout the things that I did in my youth/ 'Cause now I have a child, I know one day that you will do it.
Sheeran has fine-tuned his songcraft to turn personal expressions into something that has mass-appeal without having to write music that chase numbers. The musical DNA of the album is borrowed from his 2017 effort Divide, be it catchy melodies or a range of styles, but this time he appears more of a troubadour with affable lyrics.
The Halifax-born singer was writing music before the pandemic hit but he moved to top gear once lockdown was announced. "I did some carpentry, made my daughter's stuff for her bedroom and then I sort of had the itch, I think. And started trying to write a song  a day. I probably wrote 20 songs in the space of 20 days; every single day I'd wake up and write a song. And then my friend Johnny (McDaid), who I'd been making the album with… his partner lives in America… he was living alone and had quarantined in the house next door for two weeks and then moved in and we basically started working in the studio in our little commune," Sheeran has told Zane Lowe of Apple Music on the music streaming platform's 'First Listen' event.
No hidden messages The man spent his 20s questioning who he was and as a singer what he was supposed to "add to the world". These questions started to give answers when he turned 30 in February this year.
There have been two moments that define where he is. "One, my daughter being born, which is new life and, one, my friend Michael [Gudinsk; the record executive and promoter passed away on March 2] dying, which is death. Both hit me in a way where you appreciate tomorrow more because of each one, if that makes sense, and I saw the symbol 'equals'.
"An 'equals' symbol is the end of a question and the start of an answer; it's in the middle of the two. I definitely feel like being 30 I'm on either sides. In my 20's there were a lot of questions, in my 30's there are a lot of answers, so the butterflies were essentially from a chrysalis, new life. It came to me one day, I don't know why, but I have a lot of things come to me when I go running and I think it's because the creative side of your brain sort of opens up when you have nothing else to focus on," he told Lowe.
Perhaps the most appealing part of Sheeran's music is clarity. Listeners don't have to think about hidden messages or a twist in the tale. He is a storyteller who likes to keep it simple. The tracks on the new album talk about first love, birth, death, pain… all stacked up on his mind's shelf for you to pick and read. On the R&B tune Shivers we hear about the excitement he feels when near his beloved (I wanna be that guy, I wanna kiss your eyes/ I wanna drink that smile). On First Times, it's about the experiences he and his partner have had together (The first kiss, the first night, the first song that made you cry/ The first drink, red wine, on a step in Brooklyn). Bad Habits expresses how he got tired of the party scene, leading him to the woman who is always there to rescue him (My bad habits lead to wide eyes stare into space/ And I know I'll lose control of the things that I say). "I walk off stage and I'm 28 and I'm sitting in my dressing room and I'm like 'That's it and it's downhill from here.' I kind of had a month of figuring out if I was okay with it going downhill. And then for the rest of that time it was actually coming to peace with it's not actually being downhill or bigger; it's not trying to be like... I'm going out on this tour and I'm not trying to beat my record at all, that's not on my agenda. I'm not trying to put this album out and sell more copies and divide, it's not about that at all anymore…. It's about looking at someone like Elton John or a band like Coldplay who I hugely admire… So my view of career now is less about more, more, bigger, bigger," he has told Apple Music.
In fact, Elton John has been a pillar for him and they talk everyday… yes, everyday! "He calls me every single morning. Even if it's like 10 seconds, every single morning he calls. He's such a caring human. I'm sort of feeding porridge to Lyra (Sheeran's 15-month-old daughter), and I got a call from Elton…. Say 'hi' to Lyra; it's just become a daily thing. There are not many people in my life like that and I really, really appreciate him."
With each of the tracks on Equals having the quality to be played at weddings and parties for years to come, it's clear that this is an album Sheeran feels deeply about. It's calculating as well as sentimental to the point that he no longer wants to release an album that he had recorded in Nashville in 2017. "I would love to put out the record I made at Blackbird in Nashville, but I think the moment's passed."