The perfumed garden
Visit the keepers of a vanishing magic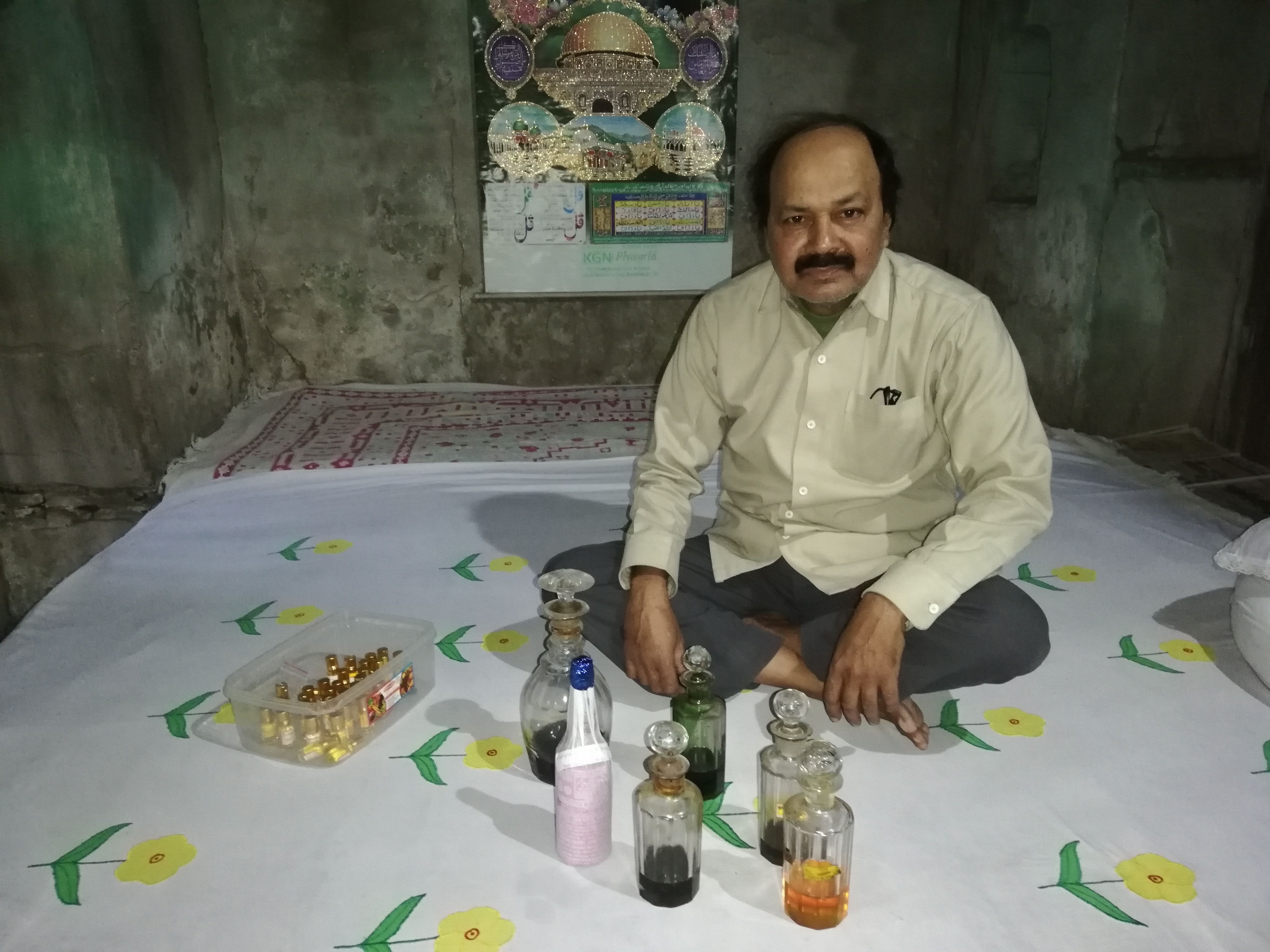 ELEMENTAL: Sadaf Tanveer with some of the attars his great-grandfather crafted
Moumita Chaudhuri
---
Published 09.05.20, 10:30 PM
|
---
The fairly recent coat of yellow paint on the walls of the one-storey house cannot hide the general air of decrepitude. But then, paint or no paint, nothing can touch its hallowed reputation among locals. After all, the house in Murshidabad's Lalgola is the home of attarwallah Asgar Hossain.
Itr or attar is the term for natural perfume oils — a derivative of the Persian word itir, meaning perfume.
Hossain used to supply attar to the royal family of Murshidabad. It is said he had gifted Wasif Ali Mirza, the second Nawab Bahadur of Bengal, with a bespoke attar which he called the Shamim-e-Wasfi. "It was the only attar Nawab sahib would use," says Hossain's great-grandson, Sadaf Tanveer.
The formula for the famed Shamim-e-Wasfi is lost. "All we know is that it was a mix of several flowers and one of them was the hasnuhana or night-blooming jasmine."
Sometime in the late 19th century, Hossain had come down to Murshidabad from Uttar Pradesh to set up business. Those days Murshidabad was an important business centre — it produced muslin, silk and jute among other things. The Dutch, Armenians and the British, all flocked to Murshidabad. Then there was the local Marwari community. "The Sheherwalis of Azimganj, Jiaganj, the Badi Kothi, the Marwaris of Cossimbazar, Kathgola Bagan Bari were all based here. The aristrocrats of Calcutta would come to Murshidabad seeking rose water during Durga Puja," recounts Tanveer.
The nawab's household needed its quota of attar for festivities and celebrations. Attar was also used in nawabi cuisine, says Tanveer. The use of perfume was so important that the nawabs would fetch attar from Iran. Later, Iranian traders also settled down in Murshidabad.
Nawab Bahadur Wasif Ali Mirza was very fond of attar. The story goes that he would get quilts made out of cotton soaked in attar and would use these all through the year. He would even gift such quilts to his friends and esteemed guests.
Hossain must have heard these stories when he decided to set up shop in Murshidabad. He hailed from Ballia district of Uttar Pradesh and that is where he had his production unit. To date, his descendants manufacture perfumes and rose water in Aligarh, Kannauj and Ballia.
Hossain used to make attar and rose water only and only from flowers. He used to experiment with many kinds of flowers. Tanveer names a special variety of rose his ancestor procured from Iran; it is called Basra. He would get sandalwood all the way from Mysore.
Says Tanveer, "He would make attar from durba ghash or Bermuda grass that grows in the summer months. It keeps the body cool. He would make mitti attar by boiling earth in hot water." Majmua is the name for another one of his popular attars. "My great-grandfather would make attar for each and every season," says Tanveer.
Asgar Hossain was no student of chemistry, but one gathers from Tanveer's narrations that he was a man with keen sensory powers, and intelligence and enterprise to leverage the same. The Shamim-e-Wasfi might be lost to posterity but some formulae are never-changing.