Ashwika's wildlife call
Environmental filmmaker Ashwika Kapur pens a piece for t2 after a call to save the wildlife in Bengal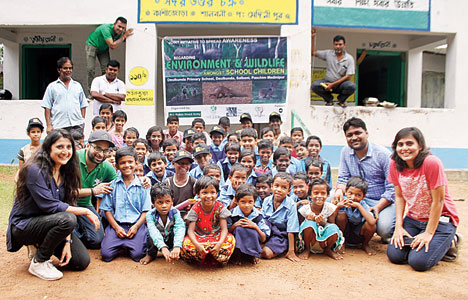 ---
Published 06.06.18, 12:00 AM
|
---
March 2, 2018. This was a very special day. A wildlife conservation WhatsApp group I belong to was exploding with excited chatter. After some 107 years, a Royal Bengal tiger had been sighted in West Midnapore. For wildlife enthusiasts, this was cause for celebration. Nature seemed to be holding on. The sudden appearance of this tiger was testimony to the resilience and adaptability of the wildlife that inhabits our jungles.
We were confident that the tiger would eventually be relocated by the forest department to ensure safety to both the animal and people. But before that could happen, a very dark day was to follow.
April 13, 2018. While the tiger was deep in the forest, feeding on a wild boar, its natural prey, it was violently speared to death by local hunters. It was not killed in self-defence, and certainly not out of fear. Tragically, this wasn't even an isolated case of hunting. In fact, it heralded the beginning of a gruesome and entirely illegal 'wildlife hunting festival' declared each summer by tribal communities in southern Bengal.
It's impossible to grasp the extent of this 'shikarutsav' until you see it for yourself. I did, this year, in the company of a wildlife conservation and human-wildlife conflict mitigation NGO called HEAL (Human & Environment Alliance League), which is a collection of young, highly-educated, contagiously-passionate, and well-informed individuals from various walks of life.
What I witnessed was nothing short of gut-wrenching. Tribal hunters, by the scores, set out armed with spears, knives and arrows. Regardless of wildlife protection laws declaring all hunting of wildlife as illegal in India, they return home with sacks full of murdered wildlife. A mindless orgy of killing for thrill, pleasure and habit. The forest department and other authorities with the help of civic volunteers and NGOs do their best to enforce the law, but it's a real challenge as the custom is too deeply ingrained.
It's easy to be outraged and furious. But when you see boys as young as 12 and 13 amongst these blood-thirsty hunters, you realise the immensity of the problem. The children of these hunting communities have never been taught to look at nature and see beauty or wonder. They have been taught that animals are meant for killing — not so much for food but for the pride and the joy of the hunt.
And so the idea for this year's World Environment Day (June 5), was born. I thought this was the perfect opportunity to bring together two NGOs I avidly support, HEAL and Robin Hood Army, to show these children a side of nature they haven't seen before. So we were back in West Midnapore. This isn't far from where that tiger was mercilessly killed. This is wildlife country, full of hyenas, wolves, pangolins, jackals, fishing cats and, in winter, even elephants.
We were all on a mission. We had come to a school in Salboni for a day out with 100-odd local children. The programme included screenings of wildlife clips from my movies, wildlife quizzes, games, storytelling, and was to be topped with a scrumptious meal provided by the Robin Hood Army. It was a fun day of wildlife celebration. And it worked. It didn't take long for the children to get absolutely hooked to the stories we told and the clips we showed.
They were craning to watch films on animals and they were filled with excitement when an animal was familiar to them. One film was about wildlife researcher Tiasa Adhya's work on the fishing cat, which was the state animal of West Bengal. Much to our joy, their reactions were extremely encouraging.
They began responding with wonder, delight and exclamations of familiarity. It was their turn now, and they started animatedly telling us about the animals they see around them. And as they got more involved, their voices became boastful with the pride of knowledge of the wildlife they have in their surroundings, not as things to be hunted but celebrated and bragged about.
We left at the end of a fulfilling day with the hope that if these children can be converted to the cause of conservation they would make, with their knowledge of wildlife and nature, the best protectors of the wildlife that yet remains in our state.
The sun was going down as we headed back down the highway. We turned back to wave at some of the children who waved back at us with innocence and playfulness befitting their age. The moment was full of hope, and HEAL will return to the village to continue inspiring change.
(Ashwika Kapur is a Green Oscar winner)