With Covid-19 offstaging concerts, online is where singers are going live
Our fans have given us so much. It is time for us to give back: Kamalini Mukherji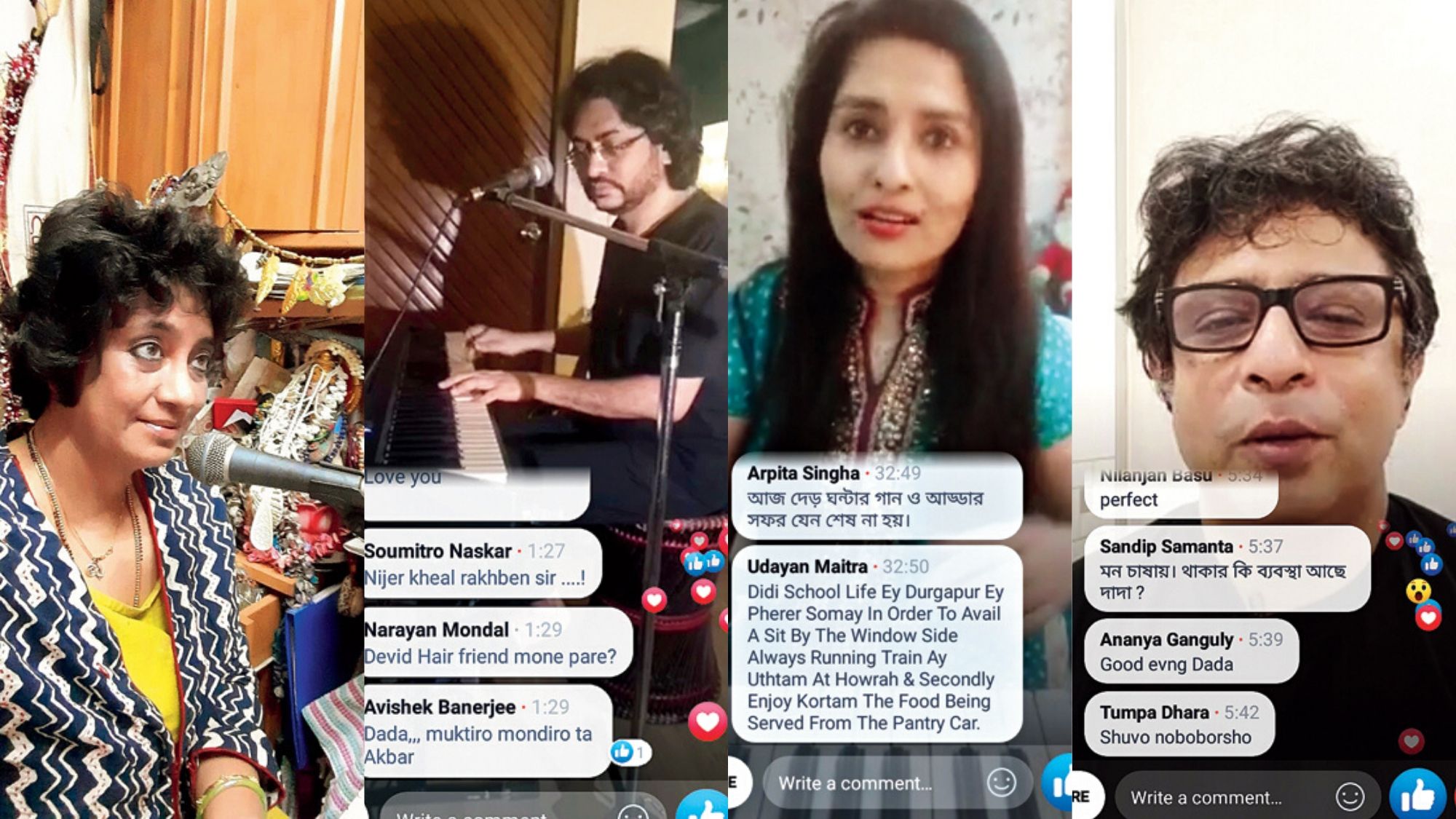 (L-R) Swagatalakshmi Dasgupta, Rupam Islam, Neepabithi Ghosh, and Rupankar Bagch
Sourced by the Telegraph
---
Published 06.05.20, 01:27 PM
|
---
Every night for a month now, singer Neepabithi Ghosh has been logging into Facebook for an hour-and-half for live sessions, performing songs which listeners request for in the comments section.
Swagatalakshmi Dasgupta is uploading a song of hers every day on YouTube and relishing the feedback she is getting.
With music concerts ruled out in a pandemic-hit world, artistes are turning to the web to reach out to their audiences.
"I have hardly ever done live sessions on social media except on rare occasions like launch of an album or publicity of an upcoming show. But ever since the lockdown started I have already done eight or nine live sessions on Facebook and YouTube," said Rupankar Bagchi. This, he feels, is his "social responsibility".
"Music can boost people's morale," said Neepabithi. She announces a theme in advance for her Facebook live session, titled 'Anonder Der Ghonta' at 10pm — be it childhood Durga Puja, memorable gifts or grandparents — on which listeners share their memories in the live comments section. These she reads out animatedly, in between singing requested songs. These sessions are watched by many more later, taking the live viewer count of about 200 to 6,000-7,000 in the next seven-eight hours. "I make it a point to choose topics that are likely to evoke amusing or touching memories. Many write how much they enjoy listening to the stories shared by others as well," she said.
Rupam Islam put up what he calls "a concert" on Nava Varsha. "Concerts are not happening, yet audiences want to listen and I have to satisfy my hunger to perform. I need practice too," said the Fossils frontman.
He came on Facebook to share his plans about the concert in the morning for about 20 minutes, drawing about 52,000 views. "We deliberately did the concert not on Facebook but on his YouTube channel as we wanted some traffic there. Getting people to watch on Facebook is easy as they are logged in there anyway. They need to make an effort to listen to Rupam. It also helps popularise his YouTube channel. The concert drew 11,000 views. It could easily have been three lakh if we did it on Facebook. But Rupam should not be so accessible," said his wife and manager Rupsha Dasgupta. His YouTube channel received a silver button from the company on crossing one lakh subscribers last February.
Swagalakshmi Dasgupta is recording "something positive" daily and uploading on her YouTube channel. "It started with a request in end-March to record Annapurna stotra before the Puja. Since then, I have recorded a variety of songs — Abba's I Have a Dream, John Lennon's Imagine, Tagore's Ohe doyamoy…," she said.
She looks forward to the comments left by listeners. "This is a great way to stay in touch with my students too and not feel isolated during lockdown," said Dasgupta.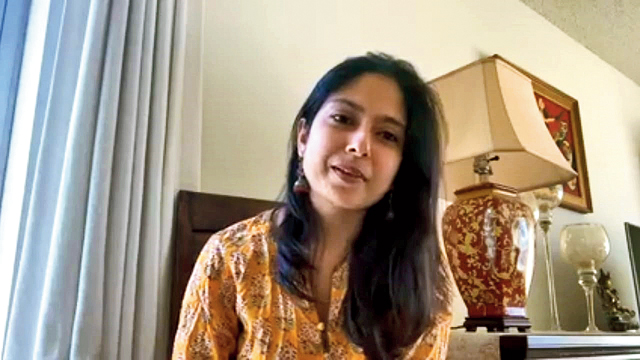 Kamalini Mukherji was supposed to have flown to Calcutta on April 14. "The weeks around Rabindra Jayanti are hectic for those of us who sing Tagore songs. Even if I am far away, technology is enabling me to reach out to fans. So many industries are modifying ways of working, so can we."
From her San Francisco home, she has held three Facebook live sessions on consecutive Saturdays. But unlike Neepabithi, she does not entertain live requests. "When I post an announcement of a session days in advance, requests start coming. I choose songs from them, announcing names of those who made the request when I go live. I do not want to be distracted by new requests when I perform nor do I think it is fair to other listeners to read out comments of a few."
Neepabithi, however, is comfortable interacting with every listener who comments on her live feed. "Facebook is an informal medium. They get to see me at home, hear me asking my son to close the window if it rains, sympathise when I complain of back pain… I am known for variety, so they know they can ask me for anything from Beatles and Boney M. to vintage Bollywood and Bengali hits. I am happy to sing two lines of any song they ask for and admit if I do not remember the lyrics. This casual tone is different from live TV shows."
The thought of over-exposure makes most artistes space out their sessions but none of them feels the free access will make audiences wary of buying tickets when concerts happen again. "Our songs were available free on YouTube all these years. Yet concerts never lacked audience," said Rupankar.
"Our fans have given us so much. It is time for us to give back," signed off Kamalini.