When food meets art
A culinary extravaganza awaits at this special exhibit by the Museum of Art & Photography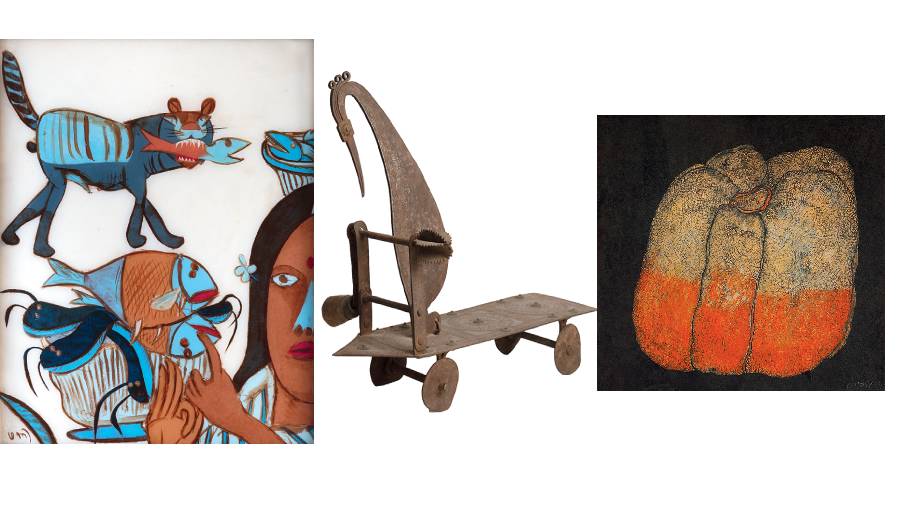 (L-R) Print from the portfolio Abundance from Rural India, J.P. Singhal, published by M.L. Binani and Dinesh Singhal, c.1970; A Coconut Grater and Vegetable Cutter c.18th-19th century, South India Iron; Fruit-I, Jogen Chowdhury, 1977, ink and pastel on paper
---
Published 07.07.21, 11:30 PM
|
---
Food history has made for a compelling subject of studies for enthusiasts around the world. From studying the negative attack on a minority community and its obliteration by superior forces beginning with an attack on food to the evolution of parts of society through the evolution of food — it is a fascinating topic that scores high on relatability. Looking back at the global crisis induced by the pandemic, historians will one day study the relationship thus formed between human beings and food. While Dalgona coffee and a nuanced interest in the art of cooking will form a strong case for their studies, Museum of Art & Photography (MAP) decided to add a few pages to the annals of history by curating an exhibition tracing the relationship between food and art.
The idea behind the exhibit was to highlight the intimacy that exists between a cook and their food and food as an art form that is as personal as it is sensorial. Deep-diving into small details, the exhibit talks of certain ingredients like the journey of capsicum or the story of pomegranate that entered the Indian sub-continent from present-day Iran. Beautifully named 'Stories on Banana Leaf', there are exemplary works of the likes of K.G. Subramanyan, K.H. Ara, Jogen Chowdhury, and J.P. Singhal on display at this online exhibit that is also home to sculptures, paintings, advertisement posters and recipes from MAP's team.
The humble coconut, for instance, finds a place of glory in the exhibit that showcases a coconut grater and vegetable cutter from 18th-19th century South India, narrating its uses in history and modern culinary warfare and ends with a recipe of a delectable coconut cake by Rucha Vibhute.
K.G. Subramanyan's untitled painting depicting a woman with a fish basket and a cat with fish in its mouth, leads to a deep-dive into relationship with fish in coastal places like Bengal and Kerala. This artwork then leads to a Meen Moilee recipe by Arnika Ahldag. The immersive and educational experience of this particular exhibition is further amplified with MAP's list of curated online events this month that include 'Utterly Butterly Relevant' — with the makers of the iconic Amul Girl speaking about the journey of the campaign — and 'Why So Serious?',  an interactive meme-making workshop by Medhavi Gandhi of Heritage Lab.
"From stories of family recipes and secret ingredients that have been passed down through generations, to glimpses of the several influences on India's culinary history, this exhibition seeks to provide a sense of joy, nostalgia and respite from our current collective situation as we remain homebound and isolated, away from our loved ones," said Kamini Sawhney, director of MAP. Begin your journey at the MAP portal and end up in your kitchen for a complete culinary and artistic experience at 'Stories on Banana Leaf' that began earlier this month and will continue for three months.
Pictures: Museum of Art & Photography (MAP), Bengaluru