'What My Mother Didn't Teach Me'
Viraj Khanna's debut art solo is an arresting one for the innocent bystander, considering that his mom is celebrated designer Anamika Khanna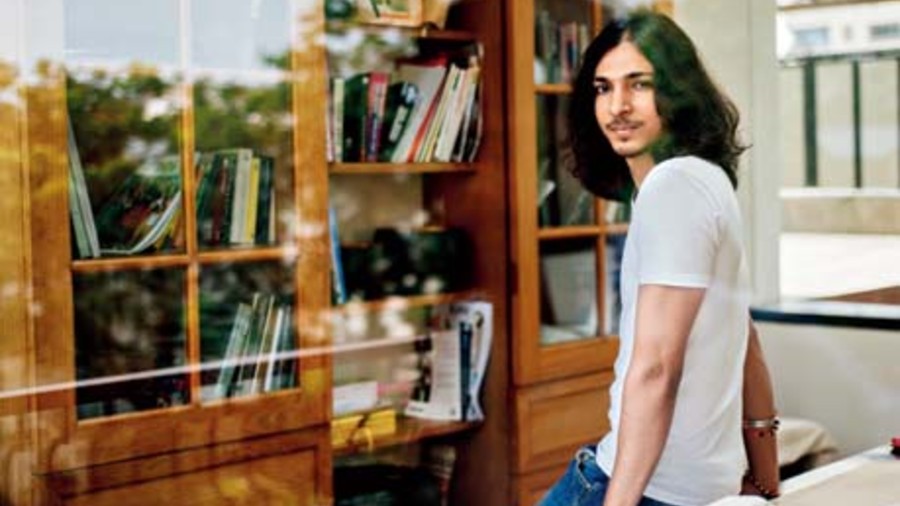 Viraj Khanna
Pictures: Gallery & artist
---
Published 11.03.21, 12:19 AM
|
---
Exaggerated facial features on fibreglass sculptures, a dose of quirk and the whimsy of collages to draw on the human experience, albeit with a touch of humour, underline Viraj Khanna's debut solo art showcase that previews on March 13 at The Loft, Quest Mall and is presented by gallery Art Exposure. The title 'What My Mother Didn't Teach Me' is of course an arresting one for the innocent bystander, considering that his mother is celebrated designer Anamika Khanna. Viraj, who holds a business degree, is also one half of the twins (brother Vishesh) who are the creative minds behind the pret label AK-OK. But it is Viraj's dual identity in fashion and art that prompted the title to ensure a clear division between the two.
Set to showcase a series of 15 paintings and 15 sculptures born during the lockdown, the entire body of work represents deconstruction and assemblage of singular identities to form a contemporary and quirky take on the vulnerabilities and realities of the human condition. Curious to know exactly what his mother did not teach him, we dialled Viraj to know more. Excerpts: 
How did art happen to you?
I haven't studied art or anything — I have studied business at university. But I started making art during the lockdown. Sometimes I would be doing it for eight-10 hours in a day and my lifestyle became around art. So when I got into it, my life was just around it. For this exhibition, I have been working since June-July.
Were you working with the agenda of putting together this exhibition or were you going with the flow?
Initially, I was just enjoying it so much that I was just making art and eventually Somak Mitra of Art Exposure got in touch with me and then I started focusing on this exhibition. I was putting up pictures of my art on Instagram and the gallery liked it a lot and wanted to meet me.
And how did you come up with the name for the showcase?
The name was Ina Puri's idea and it does not have a direct relationship with the pieces I am showcasing but the name goes to show that this identity of mine is completely separate from what I do for AK-OK, the brand, and in fashion. So the name was a fun thing to separate the two identities a little. Fashion is also a huge part of my life but I wanted to keep the art and the fashion parts separate. Tell us about what you're presenting…
I like to portray the condition of the human being — how we always try to put up a perfect front but we are inherently imperfect. In my sculptures, you can see this in different ways. For example, the plumped-up lips are almost a show, a fun way to showcase the current society and how things are changing. It's just the way I am seeing the changes around me and how people put on a face to hide what they really are. I have kept it lighthearted as well because I don't want to be judgemental. All the pieces have a similar direction.
I use different elements for each piece. Everything starts with a paper collage and I cut different elements from different magazines — maybe take a shoe from one and a hand from another. I take various unrelated elements and put them together on paper and create these abstract and figurative pieces. And then I eventually make these different sculptures. They are all different elements, which may show in some pieces the different experiences of a person and that depends on the element that I use.
How would you describe your process?
The first time I made something was during the lockdown when I actually wanted to make something for the AK Instagram page. That's when I gave this entire process of collaging a try and everyone really liked it and then a lot of the collages were tried on clothes. Our AK collection has a lot of the collages transferred to prints and even a lot of the embroideries are being experimented with it. And that's how the art also happened.
The exhibition can be viewed physically from March 14 to 22