Visual arts review: Ideas formless and tangible
Sahil Naik throws up contentious questions around the firm and tangible dimensions of monuments and mausolea that buoy civilizational aspirations and boost narratives on which nation states thrive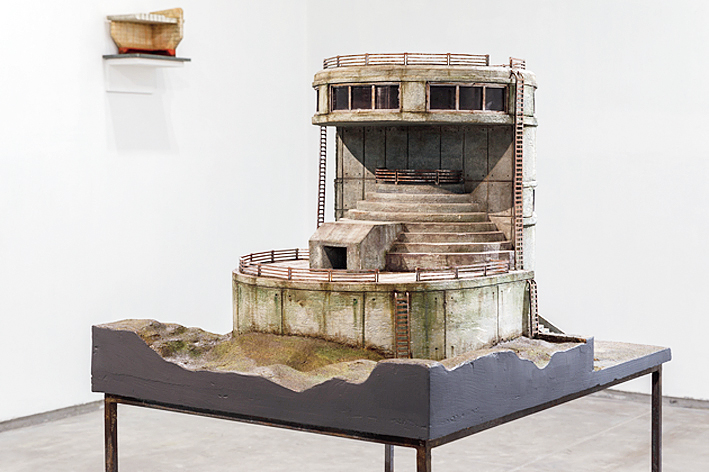 ---
---
Hong Kong's Samson Young, promiscuous as he is in his forays into diverse disciplines, picks what can be termed collateral scraps to conjure a tenuous art of ideas, excerpts and improvisation. An art without labels and firm boundaries that seeks to trace patterns of unbidden, formless flow within an amorphous form. Goa-based Sahil Naik, on the other hand, throws up contentious questions around the firm and tangible dimensions of monuments and mausolea that buoy civilizational aspirations and boost narratives on which nation states thrive.

The light, playful tenor of Young's pluralist idiom merges strains of music and visual art and spices them up with political comments at times. In his second solo show in Calcutta, hosted recently at Experimenter's Ballygunge Place gallery, the artist weaves an indefinable texture with voice tones and minute facial gestures that negotiate Notational Tendencies and Performance Processes, shorn of conventional meaning. In this 3-channel video of a free-wheeling interpretation of musical notation, the vocalist, Michael Schiefel, takes the text of a lecture by Earle Brown as notation and recites it with inflections that turn the voice into a versatile instrument, dropping to bass and teasing whispers and echoes, rising to a crescendo, quickening, pausing, skipping to a sudden, staccato rhythm, peaking to alto exclamations in a maze of sound patterns, pitches and fleeting expressions, while ambient decibels, from another channel, intrude into and graze against them.
For Chopin, Young plots the composer's scribbled deletions into levitating shapes, and recalls a similar exercise that led Tagore to art. In Otocky, a video game of musical notes, the artist distils the sparse geometry of the tiles as though awaiting gaming collaboration. The adventure of uncharted, accidental directions that an initial action triggers is more captivating in Support Structures: the technology of 3D printing yields plastic residue as intricate, self-generated permutations, excerpted as sculpture. While Ancillary Motion appears to parse musical scores, Available Forms opens up a curious enquiry: how objects can transmit musical cues through their shapes and colours to experimental composers like Young and his collaborator, Tadevosyan. Lastly, Don't Give the Demon Your Thoughts provokes multiple readings of its interlinked metaphors — washing machines, detergents and tools to wash tear gas from eyes — in the context of the Hong Kong protests. His song of the same name, nonchalantly rebellious, is sung by Schiefel, but is meant to be taken up by ever-swelling numbers.
Naik understands that monuments embody cultural identity, quote history, even script sub-texts of exploitation but act as correlatives to ideals of nationhood. A column of wood, metal and glass that occupies the pit at Experimenter's Gariahat gallery, allude to excavated ruins — like the Ashokan pillars — and the convenient appropriation of a complex past into a simplified mythopoeic packaging loaded with contemporary agendas.
But the overbearing architecture of modernism, harnessed to the cause of nation-building, can loom with grim portents. In a series of paintings that brings to mind the innocent ambitions of Russian Constructivism in its very title, Modernist Facades for a New Nation, graceless structures are created on paper with acrylic emulsion and archi concrete paint to hint at de-humanized, labyrinthine, forbidding power centres of a modern-day super-State. Intimidating, rootless, anonymous, they are suspended in space, while the steel-grey paint, cunningly weathered, suggests the irony of design flaws in a new nation.
A set of drab, run-down very middle-class buildings proclaims functional economy rather than elegance. Elsewhere, replicated architectural features recognize the controlling power of centralized uniformity. No wonder Naik's stunning, detailed structures, to be seen till February 25, summon up the insidious ellipses of Kafkaesque parables.