A collab on a jazz standard
Two Bengali musicians from Calcutta, one Israeli sax player in Berlin and a Russian contrabassist in New Delhi got together, the outcome is the hauntingly beautiful Detour ahead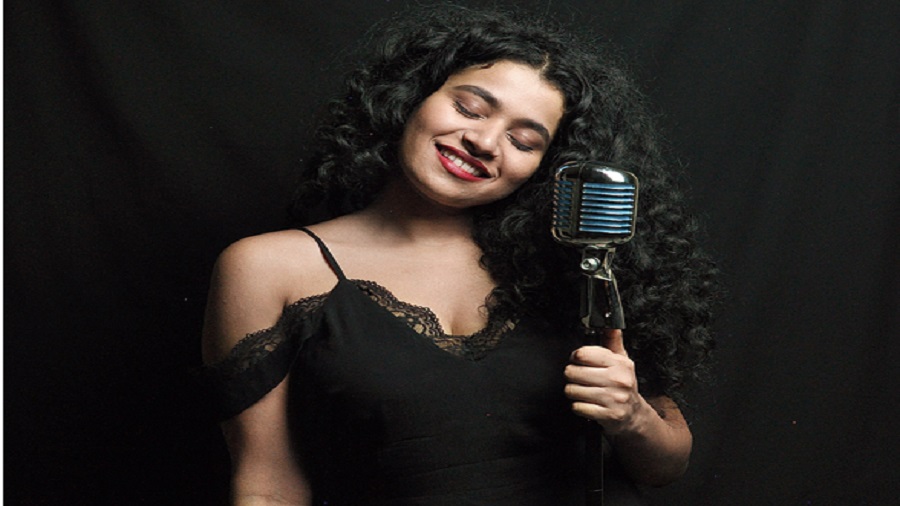 ---
Published 27.09.20, 06:22 PM
|
---
Vocalist Rupsha Sen heard the classic Detour Ahead for the first time in April 2020. "I was transported to that special place where powerful art can take us sometimes," she says. Soon Rupsha got together with musicians Soham Dey, Omri Abramov, Ekaterina Aristova to work on a version of the song. On September 19, the music video for Detour Ahead dropped and has met with heartwarming feedback. A chat with Rupsha...

What was the starting point for this collab?
As the pandemic hit, we were forced to retire to our homes, lock our doors and ride out the storm. Subsequently, all establishments were shut down along with venues that hosted live music in the city and thus we were all forced to stay apart and put a halt to rehearsing and performing live music. This birthed the surge of virtual performances and collaborations including ours. Although some of us knew of each other distantly, Soham, Omri, Ekaterina and I officially met online and came together for this collaboration based on our shared love for this genre of music.

Why pick this song to perform?
Firstly, because it's a gorgeous jazz standard that all four of us love. Secondly, it is harmonically rich, evocative and beautifully structured with such simple yet poignant lyrics and lastly, it is not very often performed or covered, which makes it an interesting choice.

Do you remember the first time you had listened to this tune?  
I actually heard this song for the first time back in April 2020 when Soham posted a rendition of it online and I was immediately hooked. This made me look up the different versions available online, such as Mark Murphy, Ella Fitzgerald, Kurt Elling but I have to say the version I ended up channelling for this collaboration and also my favourite is the rendition by Sarah Vaughan. It's hauntingly beautiful.
It's safe to say that when I heard the song for the first time I was moved and could feel exactly what Sarah was singing about — comparing love's progress to a motor trip... of course credit for the lyrics goes to the composers of the song — Herb Ellis, Johnny Frigo and Lou Carter.
I remember Soham telling us about his memories of how he listened to the song on his long bus rides back and forth from his work in 2016 and how this song was a constant companion to him at that time.
Music definitely has the power to evoke all kinds of emotions in us, including nostalgia, which is beautiful in a melancholic way.

How did you put together the group and why pick them?
The line-up of this collaboration includes Omri Abramov, an incredible saxophone and EWI  (electronic wind instrument)  player originating from Israel, currently residing in Berlin; the wonderful Ekaterina Aristova on contrabass hailing from Russia, currently living in New Delhi; Soham Dey, a talented singer and guitar player from Calcutta, and of course me on vocals. Omri, Soham and I had already collaborated on a song before and we had a wonderful experience working together so it was a no-brainer really that we wanted to work together again, which manifested in the form of this collaboration after we decided to bring in Ekaterina on double bass, as we really felt the song needed the sound of a double bass to make it wholesome.
We had a particular vision and sound in mind for this collaboration and we were fortunate enough to be able to bring together the people who we thought would help us get as close to that as possible.

How did you record the song? How did you rehearse for it?
The song was recorded in parts as we were all situated in different parts of the world. Having the benefit of living in the same city, Soham and I recorded the guitar and vocal tracks at Blooperhouse Studios, after which we sent the track to Ekaterina over at Delhi.
She was able to record her parts with the help of her friends at Chizai who have a studio set-up.
Lastly the track was sent to Omri, who has a studio of his own where he was able to work on the piece and come up with a combination of saxophone and EWI, which he used to simulate sounds of the clarinet, cello, violin and viola, giving the song a beautiful bed of sound to flourish on.
We were not able to rehearse together but we listened to different versions of the song to familiarise ourselves with the essence of it and came up with a way of how we wanted to approach it and also discussed all of it together so that we were all on the same page about the final piece.

How did you shoot the video? Did you have a theme for it?
Again as we were all in different locations we all had to shoot it ourselves from our respective homes/studios. It was definitely not easy and involved a number of challenges. I'm grateful to each and everyone for taking the trouble to follow the guidelines we had discussed, not only for the musical part of it but also for the video. It was also definitely an uphill task to edit the video but thankfully it all came together in the end. The theme I had envisioned for the video was always something that had a distinctly noir feel to it, so that is what we discussed and that is what we all tried to achieve.

You must have heard/watched some inspiring lockdown collaborations in the last few months. Which were your favourites?
Yes, this lockdown has definitely inspired some great collaborations, the ones that come to mind are definitely an online concert that I watched by Bireli Lagrene Trio comprising Bireli Lagrene and Adrien Moignard on guitar and William Brunard on contrabass. It was a bevy of amazing musicians creating magic together and was absolutely a treat for the ears... loved it completely.
Apart from that I have been following some Brazilian and French artistes on Instagram who have been dishing out some beautiful collaborations, namely Vanessa Moreno and Camille Bertault. From India I enjoyed a number of collaborations by the Delhi-based band The Revisit Project. I've been following their work online and through the pandemic they have been doing some great work and are also about to release a new album, which is a testament to their hard work.

How important a role did music play in your life in the last few months?
I felt like a teenager again, listening to music all day, watching incredible musicians come live and host free concerts, watching musicians collaborate with one another to make beautiful music.
Music has always played an incredibly important role in my life and it did more so in these last couple of months as when you take everything else away only the most important things remain.