Turmoil across time
This landscape, with its generational divide, was apparent in two recent shows in town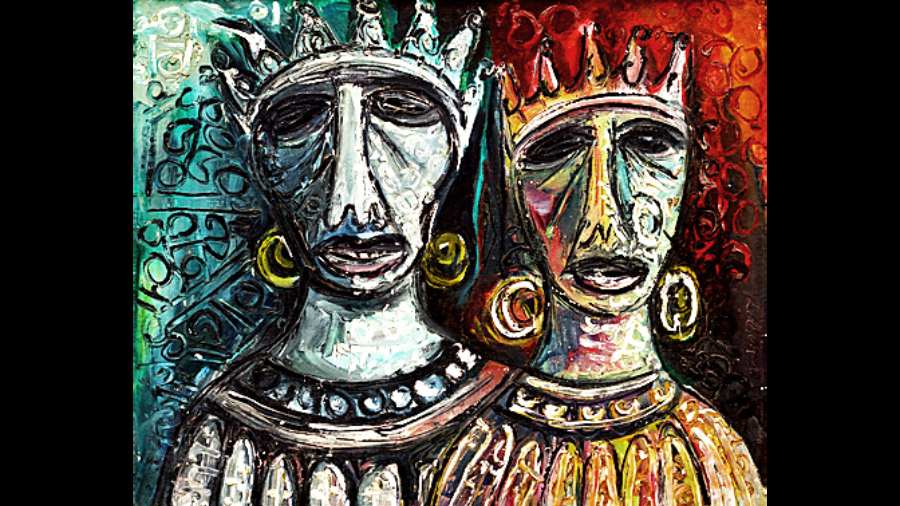 ---
Published 05.11.22, 03:16 AM
|
---
From the 1960s to the late 1990s, experiments with form redefined both a creative identity for Bengal and a figurative vocabulary that endured till radical shifts came into contemporary art practice. This landscape, with its generational divide, was apparent in two recent shows in town. In Gandhara Gallery's tribute to the Living Eye of those no longer alive and in Emami Art's focus on Probir Gupta. The first show, of 16 artists, was held in August; the second in September.
Compared to the turbulence in Gupta's oeuvre, the paintings of the third generation of modern artists may seem tame. But the latter, at their best, extract more out of less, and without fulminations. A few stark lines, for example, are all it takes for Somnath Hore to lend a spare sketch — presumably of a grieving father with his lifeless child — an epic universality. Bikash Bhattacharjee's litho, with its Rembrandtesque shadows, is rife with troubling thoughts. And when Rabin Mandal bestows the title, King and Queen (picture), on two weathered, stoical tribal heads, it brings to mind the crown of thorns that malicious pranksters put on 'the king of the Jews' before his crucifixion.
Paritosh  Sen, an unabashed Picasso follower, sniggers at himself in his Self Portrait and, in a second painting, treats Ravana's grief at losing his son, Indrajit, as a caricature to tone down emotion. Dharmanarayan Dasgupta exploited the miniature and the Kalighat pat idioms to portray life as a burlesque of anchorless figures in luminous colours, sometimes risking formulaic prettiness. K.G. Subramanyan's wry squint, though, makes what could be pretty provocatively arch, like in his boisterous monochrome watercolour. Ganesh and Kartick Pyne, Nikhil Biswas, Sunil Das, Shyamal Dutta Ray, Prakash Karmakar and others were also represented.
By the time Gupta, born in 1960, came into his own, a new India was emerging along with a new kind of art discourse. If his works are loud and loquacious, it's probably because he grapples with overwhelming contradictions and anxieties: hate and hope, authoritarianism and activism, privilege and protest, as unthinkable technological strides are matched by hallowed atavistic reveries and atomist identities. Without a metaphorical Room Full of Mirrors, therefore, how would he show people the many faces of their own society?
For his 114"x144"x2.25" polyptych, Iconizing Blacks and Dalits, the inspiration is Church iconography with its accent on gold for altarpieces and iconostases. But it's secular Dalit activists who wear haloes here. Combining acrylic, iron oxide and photo transfer whips up a chaotic churning to embody India's anarchic reality. While Indian Tempest After Nirbhaya and the Arab Spring celebrates youth uprising, using chandeliers as a symbol of elite culture threatened from below, Migrant Workers, with its silent, shadowy figures in thick paint, declares that power equations remain constant.
Gupta's installations were more elaborate. The suggestion of a typewriter in Assault is a tribute to Shireen Akleh, and recalls several icons of fearless journalism — Danish Siddiqui, Daniel Pearl, for example — reminding the viewer of a profession that had begun as a mission. Underground Radio, a more intricate installation with bulbs, wires, mikes and a carcass of ribs, refers to the historical role of the defiant voice in combating tyranny. But the installation that hinted at layered concerns in its column of prosthetic legs — that, incidentally, looked like empty chairs — was Spine: isn't spine what chairs lack?