Apt tribute
The Debabrata Biswas Smaran Committee and Tagore Society Kolkata paid tribute to the late singer, Swapan Gupta, on an online platform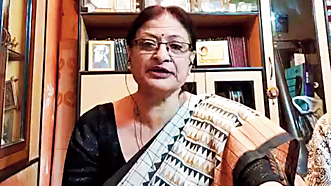 Debarati Shome at the tribute for Swapa Gupta organized by Debabrata Biswas Smaran Committee and Tagore Society Kolkata.
Samarjit Guha
---
Published 20.11.21, 01:19 AM
|
---
His singing was pure energy, a flow of naturally harmonious sounds and absolutely clear in melody. The Debabrata Biswas Smaran Committee and Tagore Society Kolkata paid tribute to the late singer, Swapan Gupta, on an online platform. Those who spoke about him mentioned the same qualities and, of course, his enduring resonance.
One would have perhaps expected more singers to join in considering Gupta's popularity. Nevertheless, among the few who sang, Debarati Shome presented a poignant rendition of "Bahire bhul hanbe jokhon". Her rendition, sans accompaniments, communicated simplicity through absolute restraint. It was also a pleasant surprise to hear Gautam Mitra's booming tenor with a melancholic approach in "Jodi haye jibono purano". Emotionally charged, Mitra reminisced about his friendship with Gupta.
Chitralekha Choudhury reconnected with the past with the bhanga gaan, "Jawa ashari eki khela". Swapan Shome's freewheeling "Aaji bijon ghore" was marred by an errant phone call in the end. One would have loved to hear more from Indrani Sen (Gupta and her shared the same guru) than the brief, yet articulate, rendition of "Je chilo amar swapano charini".