Three musicians decode Taylor Swift's new album Folklore
The album shines light on her personal journey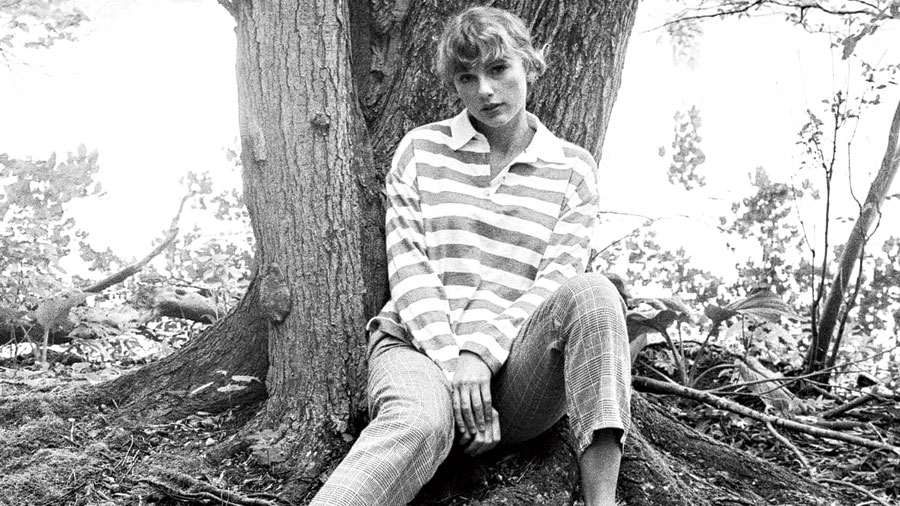 Folklore is Taylor Swift's musical gift as the world moves through troubled times.
Beth Garrabrant/Stoke PR
---
Calcutta
|
Published 05.08.20, 02:51 AM
|
---
I predict that some things will never change. There will always be an increasing fixation on the private lives of musicians, especially the younger ones…. There continues to be a bad girl vs. good girl/clean-cut vs. sexy debate, and for as long as those labels exist, I just hope there will be contenders on both sides. Everyone needs someone to relate to. And as for me? I'll just be sitting back and growing old, watching all of this happen or not happen, all the while trying to maintain a life rooted in this same optimism. And I'd also like a nice garden."
What Taylor Swift wrote in 2014 in an article in The Wall Street Journal, remains true. And she has even got herself a "nice garden". The only thing that has changed is the circumstance that has put her in the garden where she is fenced in. She doesn't mind. She has, in fact, made good use of the time she got to spend on her own to launch a 16-track album titled Folklore, which features the works of Bon Iver, Aaron Dessner and Jack Antonoff.
Taylor Swift's recent albums — Reputation (2017) and Lover (2019) — may not have won Grammys but this perhaps gave her the freedom to change gears and find a new sound, a sound that says she is in her 30s and she is focused on detailed songwriting. Steering clear of a pop approach, Swift has a more moody and indie appeal on the surprise album. According to Nielsen Music/MRC Data, Folklore has, in just its first three days of release (July 24), already surpassed the biggest week of 2020 for any album.
t2 asked three singers to decode Folklore. Here's what they have to say. Tanya Sen
First off, it feels like a complete departure from her rebellious, highly-treated pop songs. My initial reaction was that it feels very fresh and clean and that's primarily because of brilliant production. The soundscape is soothing, minimal and modern. The arrangement and the approach towards instrumentation was the game-changer for me. It's an unexpected sound from Taylor Swift, her personal journey shines through.
Folklore takes a very different path. She sounds way more mature and Zen. It almost feels like she has nothing to prove to anyone. The quarantine really has brought out the best in her. And I'm not even a Taylor Swift fan but somehow this album really feels honest and there's nothing better than the whiff of a confident woman.
The delicate textures are so beautifully designed, which makes it highly addictive. Sonically, it feels like a cohesive album. It's poetic, dark and dreamy. This album might easily be her best.
Fave tracks: Cardigan and Epiphany. Paloma Majumder
I think this new album is a good way to reach out to audiences that aren't usually Taylor Swift's base. It is a huge shift from her previous work in way of sound. There is almost a cathartic and mature quality about her words that makes this album so different from the kind of songs we are used to hearing from her.
At 16 tracks, the album becomes a little cumbersome but doesn't quite tire itself out. Just by law of probability there is something in there for everyone.
At times it felt like a deliberate attempt to move away from her previous soundscape but if she is going to write songs like Cardigan, Mad Woman and My Tears Ricochet, then I can totally get behind this sudden change in approach to her previously established musicality.
Highlight of the album: Her collaboration with Bon Iver Arunima Dasgupta
Taylor Swift's latest offering, can only be described as a tapestry of nostalgia, reverie, reminiscences and regret, woven into sparse orchestration and minimalistic melodies, designed essentially to highlight the stories within the songs; making this a dream peek into a personal journal.
For Taylor Swift fans looking for their "pop princess", this may come as a slightly rude shock. They will not find what they are accustomed to in any one of the 16 tracks. And yet, this album truly showcases her gifts as an independent singer-songwriter.
Written and released amidst the pandemic, the depth of introspection showcased in the album makes one wonder, "Were these words and melodies really just the work of a few months or were they there all along and she was simply unable to let them out into the commercial world that raised her to be where she is?"
In Cardigan she sings: When you are young, they assume you know nothing. Perhaps we did. Now we know better. It is a commendable leap of faith and a gargantuan feat to remove the mask of glitz and glamour to truly reveal oneself.
Tips about the album: For pop fans, look deeper; you will see her for who she really is. For those who wouldn't normally reach for her, definitely give this one a chance.