Those pillars of despair
Creating an art experience by clever curation can be done long before stepping into the gallery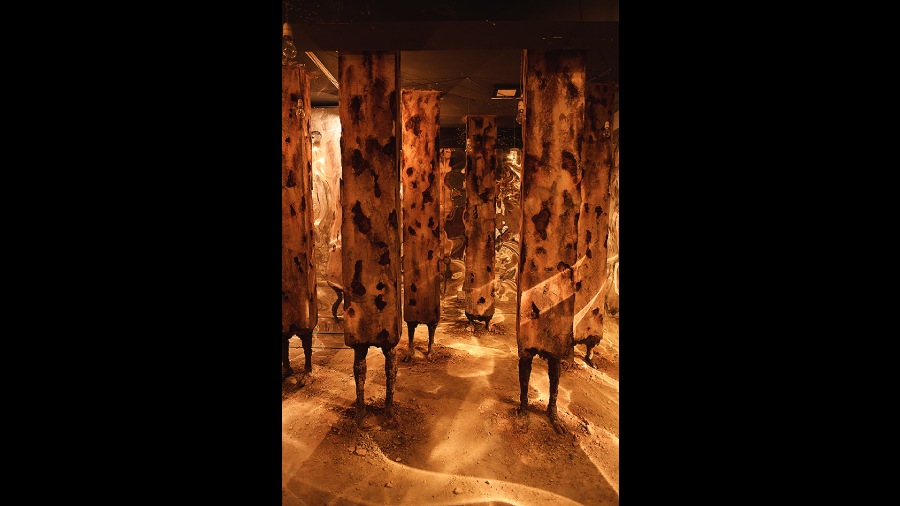 A site-specific installation artwork by Pradip Patra"
A.M (Art Multi-disciplines)
---
Published 23.04.22, 12:18 AM
|
---
Where does an installation artwork begin and what are its boundaries? If cleverly curated, the art experience can begin long before stepping into the gallery. Walking into a tiny bylane of Calcutta to reach A.M (Art Multi-disciplines) for Eeye — NOBODY, an exhibition of Pradip Patra's sculptures, bears evidence of this. The nondescript lane leads to what looks like a construction site overrun with iron and bamboo rods. Could art reside amidst such disorder? Indeed it can, especially when it is a raw reflection of life.
The inside of the gallery resembles a construction site, with concrete pillars jutting upwards and the smell of limestone assailing the viewer. The walls of the gallery are covered in distorted reflective sheets, creating an eerie hall of mirrors of sorts. A closer look sets off a sense of panic for one can see feet and legs sticking out beneath the pillars, as if there are people who have been trapped inside the concrete. Are they alive? One almost feels like clawing at the pillars to find out if some of them can be saved. Feet and legs hewn out of corroded metal with concrete pillars for bodies stretch out as far as the eye can see. These men and women have no identity — they may as well be bricks and mortar themselves.
Their legs are tautly-muscled and weathered — pockmarked, blistered, peeling — reminding one of the multitudes who walked home when the hasty lockdown was announced during the first wave of the pandemic or of the feet of the farmers at the Long March: men and women who keep society running while being condemned to the margins.
Patra injects a sense of unease into viewers, making them want to rush back and examine the pillars of their homes — apparently a sanctuary — for the remains of faceless men and women buried within the walls that cocoon us in a false sense of comfort.