A return to traditions
Theatre: An open-air showcase of art forms rooted in agrarian Bengal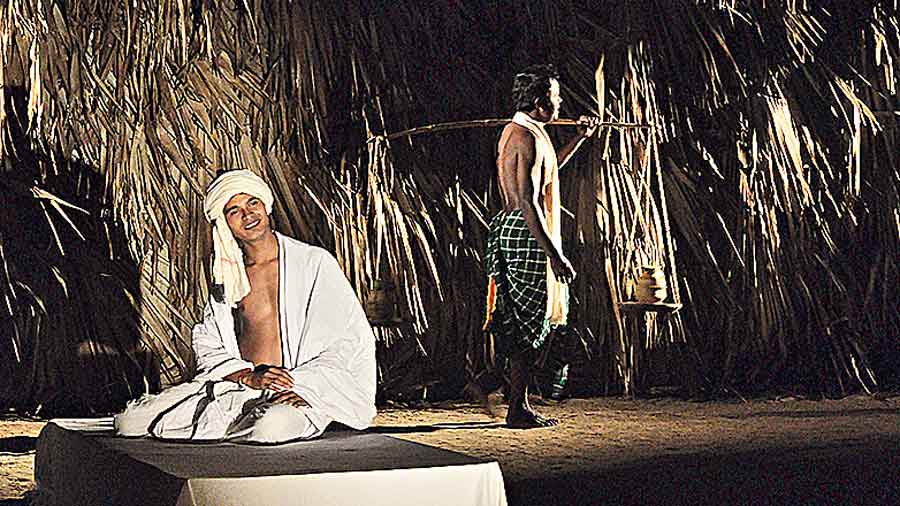 Dakghar by Birbhum Blossom Theatre [Birbhum Blossom Theatre]
---
Published 22.01.22, 02:50 AM
|
---
Cultural consumption is intricately linked with the society we live in, and the manner in which we are brought up. When it comes to the appreciation of performing art forms rooted in agrarian Bengal, a city-dweller finds it difficult to connect, often finding oneself a fish out of water; whereas villagers take no pains to negotiate with them. Having attended Shal Piyal (December 24-25, 2021), dubbed by Birbhum Blossom Theatre, the organizers, as a 'Festival of Folk Dance, Music and Theatre', this reviewer feels the time has come that we begin to erase the categorical distinctions when it comes to indigenous performing arts.
The two-day open-air programme at Theatre Cottage, Daranda near Santiniketan, was designed in such a fashion that the performances could take place in three different spaces, one after another. The larger space, where the audience sits in an earthen gallery overlooking a large performance floor, brought together veterans from a wide range of performing art forms rooted in Birbhum, showcasing their traditional skills.
Anathbandhu Ghosh radiated authority over the music of the soil as he sang the opening verses from Jayadeva's "Geeta Govinda". Ably supported by Nitai Das on srikhol and Kangal Khepa on dotara, Ghosh kept paraphrasing in Bangla and explaining the subtle nuances. The theatricality that stems from an organic association with the song-offering was unmistakable in every item that he and his disciples presented. Laltu Patua from Itagaria presented an excerpt from Behula-Lakhindar Pala. It was sung to the rhythm of a drum that he played as his wife kept unrolling the 'pata' illustrating the age-old narrative embedded in snake-cult. Sitting cross-legged on their haunches, the Bauri women from Mohammad Bazar presented Chhad petanor gaan, a means to ease the monotony of beating the newly-laid roof with wooden bats. Although the tradition is dying fast in the age of mechanization, the lyrics that included references to visits to Kalighat and clandestine meetings facilitated by a 'missed call' sounded remarkably fresh.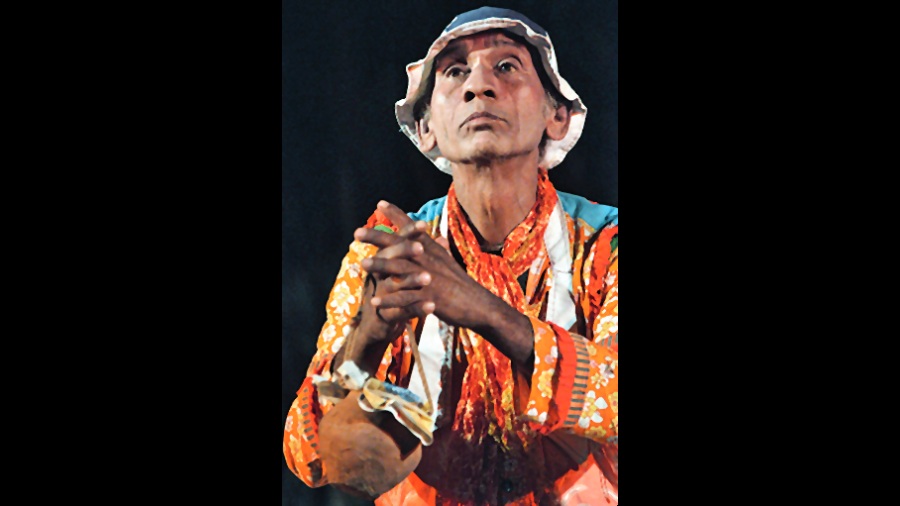 A separate space was earmarked for string puppet shows presented by Maa Shitala Putul Nach Party from Barbaria, Nadia. The ensemble staged Behula-Lakhindar Pala and Bhakta Prahlad, both inspired by jatra of the 1960s. The comic prelude that strikes rapport with the audience was out and out sexist. It was also a comment on the anxiety of traditional puppet artists who crossed over to Nadia after the partition of Bengal. In comparison, the leto performers from Sri Durga Leto Asar, Mohammad Bazar, seemed undeterred. Led by the venerable Hara Kumar Gupta, the ensemble, that included female impersonators, presented Lyalar Biye (picture, left) with loads of bawdy humour. Accompanied by an orchestra complete with trumpet, clarinet, harmonium, table and brass cymbals, it was a laugh riot running close to an hour.
The festival's brush with modern theatre aesthetics came to the forefront with a brief scene-work inspired by Dakghar (picture, right). Presented by Birbhum Blossom Theatre and designed by Partha Gupta, this is the third Tagore work in their repertoire. Rather than words, this time the focus was firm on suggestive movements and musicality. A fuller version would be appropriate. Bisargo Theatre, whose mobility along the lines of Third Theatre principles is winning admirers all over, presented Bagh Chal under a tree with the audience sitting in a semi-circle. This satiric take on rapidly-expanding social media networks, enacted by Dwoipayan and Nibedita, was successful in disturbing the sang-froid that surrounds us.