Broken pieces
Mounted loosely in the form of documentary theatre, Vanga Somporker Jadughor is an attempt at dramatizing the genesis of the Museum of Broken Relationships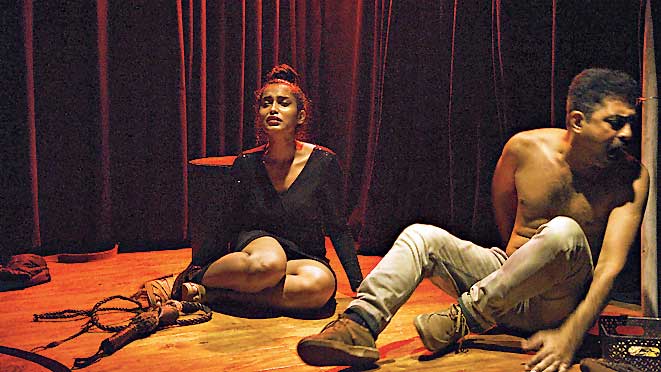 A moment from Vanga Somporker Jadughor.
Dipankar Sen
---
Published 21.08.21, 01:21 AM
|
---
When their relationship of four years collapsed, Croatian artists, Olinka Vistica and Drazen Grubisic, came up with the idea of creating an installation with tokens of their shared life and with similar contributions from friends and acquaintances. Over the years, the installation accumulated more and more objects to eventually become a permanent museum in Zagreb. Mounted loosely in the form of documentary theatre, Vanga Somporker Jadughor (produced by IFTA; scripted and directed by Debasish Dutta) is an interesting attempt at dramatizing the genesis of the Museum of Broken Relationships.
A number of objects, and the stories that cling to these, form the narrative bricks of the play, with the narratorial voice cementing all of these together. As director, Dutta tends to privilege the stories over the objects, that is, while the stories receive the desired focus, the need to emphasize the objects through scenographic design remains largely overlooked. After all, exhibits constitute the core of any museum and a theatrical performance striving to convey the essence of a museum has to discover ways of foregrounding the curated objects. Although he puts the images that are projected to otherwise good use, Dutta misses a trick by not presenting images of the actual museum pieces (readily available on the museum's website) as visual references to the objects handled by the actors. The trope of sporadically adding brush strokes on a canvas to finally come up with a complete image seems superfluous in the scheme of things.
The young cast comprising Debolina, Reshma, Susmita, Ayush and Subhranil competently rise to the challenge of essaying multiple characters. Dutta's understated approach to playing the narrator works very well, but he is, at times, inexplicably stiff with his female co-actors. The light design by Prosenjit Banerjee is successful in underscoring the emotional undulations without too much fuss. There is scope to revisit the music design since culturally-local songs can hinder international correspondence.