Linking word and image
A 45-minute-long performance which cared the least about a linear narrative, but tried to connect words with visuals, sounds with emotions in a multi-lingual frame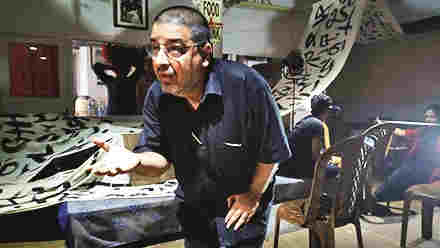 A moment from 'The Plea: From Gandhari to George Floyd'
Anshuman Bhowmick
---
Published 12.09.20, 01:53 AM
|
---
When the nation witnesses an unprecedented silence over civil rights violation, Theatre of Dissent seems to be alive in downtown Calcutta. On August 22, Parnab Mukherjee returned to the city theatre scene by directing and curating The Plea: From Gandhari to George Floyd. The word, 'curating', is something we generally attach to fine arts. To his credit, Mukherjee refashions the century-old C. Guha Studio, now renamed Boi-Chitra, situated in the dark north-west corner of the second floor of a north Calcutta building better known as the College Street Coffee House. The spatial aspects were manipulated with care.
Veterans like Hiran Mitra contributed by dissecting the performance space with a white cloth dotted with black brush strokes, and Dipak Mukhopadhyay designed an uncanny light scheme that reminded one of Henri Cartier-Bresson whose birth anniversary coincided with the premiere. Sandip Saha's black-and-white photographs documenting the life of jute mill workers were mounted on the display boards arranged in a semi-circle. Distance norms were relaxed as an invited audience settled themselves on period arm-chairs and plastic seats. 
Presented by Five Issues and Best of Kolkata Campus, this 45-minute-long performance cared the least about a linear narrative, but tried to connect words with visuals, sounds with emotions in a multi-lingual frame. The choice of Rabindranath's "Gandharir Abedan" was wise. With Indudipa Sinha reciting and enacting the poem in fragments, covering her face with a bandage towards the end, The Plea began to appeal to a sensible audience as Mukherjee kept intervening with words and loud gestures. Madhurima Goswami's felicity with words was kept under check as she kept sewing a piece of cloth at one corner of the space, conjuring up uncanny images. Excerpts from Nabarun Bhattacharya's writings about a Soviet intellectual crushed by a totalitarian system were underplayed by Biswajit Das. Soumyajit Dutta's innovations with the sticking plaster suggested a ritualistic violation of the freedom of speech and Inam Hussain Mullick created a gloomy soundscape with pipes and percussions. The colour, black, was omnipresent.