Out of place in an Indian context
The problem with The Last Supper, a dramatization (by Antara Chatterjee) of Roald Dahl's story, "Lamb to the Slaughter", goes beyond its messed up spatial code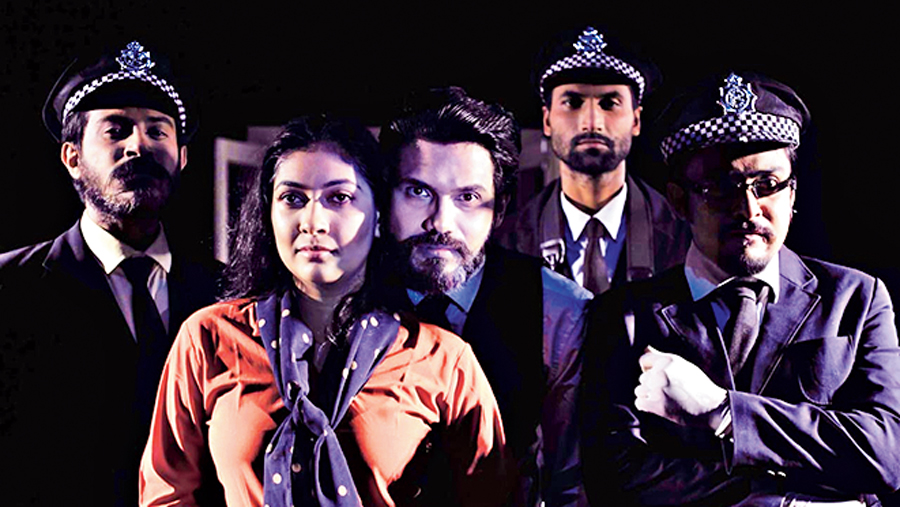 A moment from the play, The Last Supper.
Kabyakala Manan and Debantara Arts
---
Published 21.11.20, 02:12 AM
|
---
With unlock restrictions keeping Calcutta theatre out of proscenium stages, new non-proscenium venues are being discovered. The Salt Lake-based National Mime Institute, hitherto not really a hub of theatrical shows, is now emerging as a popular site for theatre. While the unlocking of new spaces for theatre is entirely welcome, not quite so is the phenomenon of productions not being tailored (intentionally or otherwise) to suit off-proscenium spaces. Produced by Kabyakala Manan and Debantara Arts, the English play, The Last Supper (directed by Sumit Roy and Prasenjit Bardhan), is one such example of a square peg in a round hole — an out-and-out proscenium play in terms of design and performance pretending to be off-proscenium. When the end-announcement declares that the play will never be taken to the proscenium stage, even when such stages will become available, one is dismayed by such brazen space-indifference among theatre-makers.
The problem with The Last Supper, a dramatization (by Antara Chatterjee) of Roald Dahl's story, "Lamb to the Slaughter", goes beyond its messed up spatial code. The pivot of Dahl's tale is a frozen leg of mutton, a murder weapon that gets eaten away, allowing the murderer to go scot-free. This leg of mutton is the cultural hurdle that makes adapting the text to an Indian context hugely problematic. One does not find legs of mutton in Indian pantries and the closest substitute, say a whole chicken, will not make a murdering club. Probably this conundrum has led The Last Supper to be made into an English play, complete with foreign characters attired in Western clothes. 
And, as a result, two problems crop up. The actors, seen 'acting' throughout, struggle with intonation and accent. More crucially, the play floats in a socio-cultural vacuum, alienated from its milieu. The cinematic trope of fast rewind is a gimmicky skill-show (a throwback perhaps to the BBC film that seems to have influenced the adaptation) and is marred by errors in details. It must, however, be acknowledged that given these difficult times professionally, engaging a host of actors and technicians to make the play is certainly commendable.