Rare attempt at portraying Savitri Bai Phule
Given the contemporary relevance of the struggle against casteism and subjugation of women that Jyotiba Phule unleashed alongside his wife, Savitribai, such productions serve a dual purpose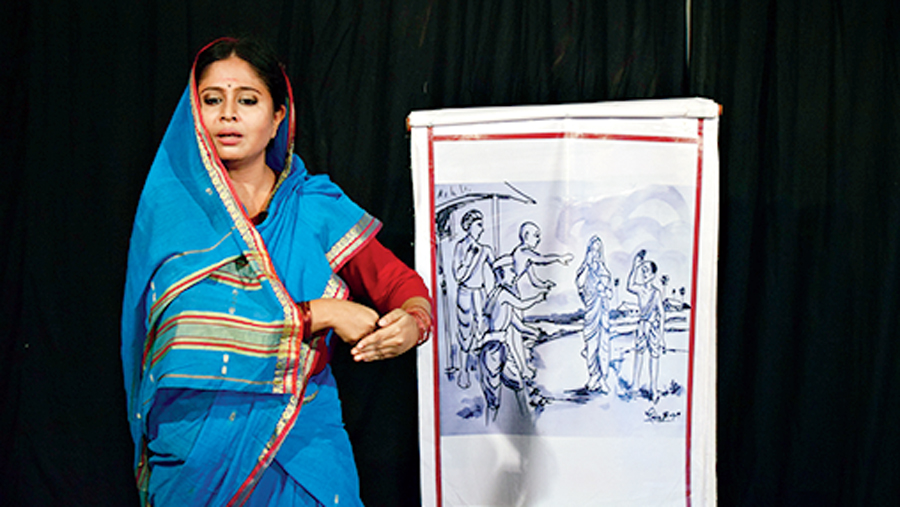 A moment from "Savitribai Phule" by Amta Parichay.
Anshuman Bhowmick
---
Published 26.09.20, 02:52 AM
|
---
How did the Marathis deal with the bubonic plague in 1896? Did the victims face a similar kind of social ostracization that people affected with Covid-19 are currently going through? Nagging questions like this came rushing in as one started watching the monodrama, Savitribai Phule, on the afternoon of September 13. 
It was a different afternoon. As a rainbow was forming over Sarpota, a non-descript Howrah village located 60 kilometres from Calcutta, the studio theatre space of Amta Parichay was teeming with people from far and near, all wearing masks and maintaining an elbow's length. Rituparna Biswas's solo performance was based on Sushama Deshpande's famous solo act Whay, Mi Savitribai in Marathi. Aided by Asish Goswami's Bengali translation and directed by Subhendu Bhandari, Savitribai Phule is a rare attempt to understand the changing social dynamics of Brahmin-dominated Pune in the second half of the 19th century. 
Given the contemporary relevance of the struggle against casteism and subjugation of women that Jyotiba Phule unleashed alongside his wife, Savitribai, such productions serve a dual purpose. Besides sensitizing the local audience about the historicity of such struggles, it helps overcome parochialism of various sorts. 
Bhandari makes Biswas wear traditional Marathi attire, but uses commonplace Bengali expressions, including a Pratul Mukhopadhyay mass song, "Bhoy pas ne chhele", to relate to his audience. The critique of the new wave of caste politics in India remains, however, understated. "Satyashodhak" was pronounced wrongly. Also, Bhandari should have done away with the graphic representations of the episodes that Robin Bar executed for them. There is no point underestimating the audience's imagination. Furthermore, Biswas knows how to strike a rapport with the audience in an intimate setting. Translating a not-so-familiar culture with its defined codes and customs was achieved in no time. Although the immersive experience of Eladidi, her previous work, was missing, and the characterizations lacked roundness at times, she could keep the audience hooked for a good 80 minutes. The mention of the Widows' Remarriage Act and Ishwar Chandra Vidyasagar, who completes 200 years today, helped create bridges. 
Would someone attempt a monodrama on Vidyasagar? For off-proscenium theatre is here to stay and solo acts look poised for greater heights.