A quest for truth and justice
After grappling with the after-effects of a gruesome rape in Garal, Rangroop has returned with Janmadin Mrityudin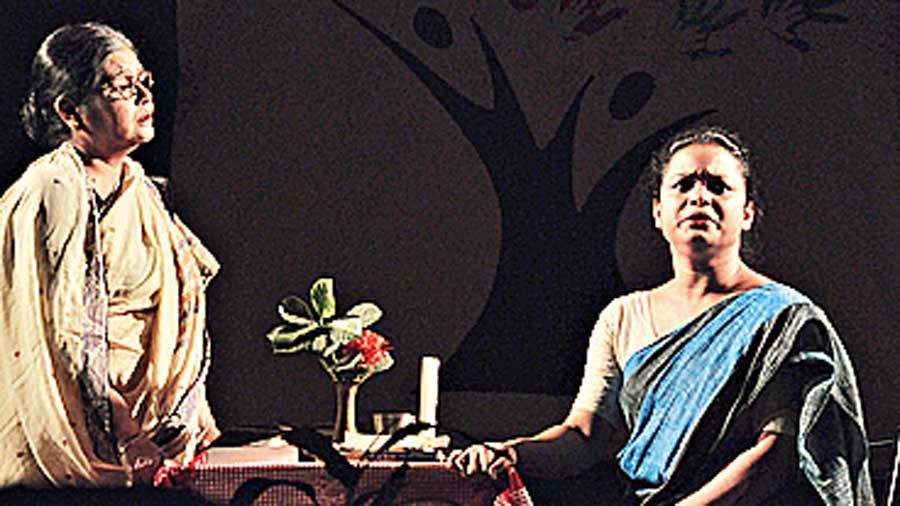 A moment from Janmadin Mrityudin.
Anshuman Bhowmick
---
Published 26.06.21, 01:31 AM
|
---
Rapid criminalization of the public space and rising lumpenization in West Bengal seem to have caught up with Rangroop. After grappling with the after-effects of a gruesome rape in Garal, Rangroop has returned with Janmadin Mrityudin. Written by Tamojit Roy, this short-length production directed by Sima Mukhopadhyay presents a case for stubborn resistance to such deeds.
Premiered in March, Janmadin Mrityudin was staged for the second time at the Academy of Fine Arts on April 3. The play opens on the second death anniversary of a wetland preservation activist-turned-investigative journalist who was brutally murdered when he tracked down an unholy nexus between builders and politicians. The victim's family — the mother, the brother and the girlfriend — ask for a judicial probe. But delayed justice leads to frustrating consequences. As the victim's brother is offered a job by the offenders, the hapless mother is left with little option but to withdraw the case. Things start moving when the girlfriend (Susmita Pan) returns to the house she loves and confronts the mother (Mamata Bandyopadhyay), who refuses to let the embarrassing secret go. What follows is an engaging drama, resting primarily on realistic characterizations. The return of the brother (Arya Jana) and the gradual disclosure of his commitment to his dead brother's ideals lead to a moving ending.
Roy conjures up a perfect blend of poetry and idealism to underline the inherent principles of a middle-class Bengali household. Social activism finds a ready launching pad in such a scenario. Mukhopadhyay directs this conventional drawing-room drama with an eye for fine details and extracts admirable portrayals from the lead cast. Pan shines in an author-backed role. Pitted against a composed Bandyopadhyay, she appears a little jittery to start with, but develops the stubborn conviction of her character well. Jana impresses in a cameo.
Running close to an hour, Janmadin Mrityudin is lit with precision by Badal Das. Debabrata Ghosh's set is so portable that the production may travel any distance and to any space, which seems to be the need of the hour.