Well set up
Premiered on December 28, at the Academy of Fine Arts, Project Manhattan extends Narayan Sanyal's narrative a bit to highlight the inherent anti-fascist streak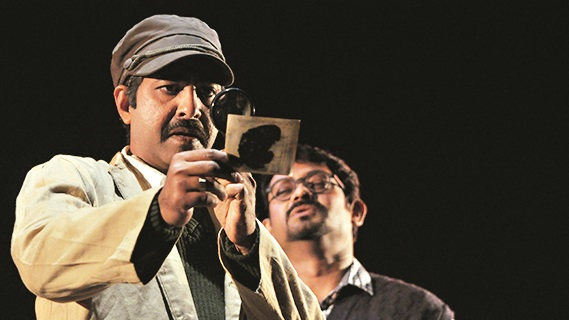 A moment from the play, Project Manhattan.
Anshuman Bhowmick
---
Published 06.02.21, 01:27 AM
|
---
Narayan Sanyal's Biswasghatak (1974) — a popular work of science fiction in Bengali that featured on the bestseller list for decades — has seen a stage adaptation in Calcutta. Based on the events that unfolded after the closure of the Manhattan Project which undertook the research and development of the first nuclear weapons, Sanyal's book tried to delve deep inside an alleged act of espionage within the closely guarded project, and in the process probed the racial and ethical dynamics at play, ultimately succeeding in presenting a case for Klaus Fuchs — the German scientist trained in Britain who had confessed that he was a spy. Aneek's stage adaptation — aptly titled Project Manhattan — comes at a time when treason is everyday reality, words like 'Mir Jafar' and 'gaddar' have assumed contemporary connotations and a surveillance society is all set to spread its tentacles to every domain that had been considered private till recently.
Premiered on December 28, 2020 at the Academy of Fine Arts, Project Manhattan extends Sanyal's narrative a bit to highlight the inherent anti-fascist streak — in line with Aneek's ideological position. It could have been a cat-and-mouse game with a voluntary disclosure at the end. However, the playwright, Sanjoy Chattopadhyay, follows the text closely, and by clipping off tertiary characters and factual details, he sets up an engaging suspense drama with a love story set in the middle. Swapnadip Sengupta, the guest director, attempts a fluid scenography with a team of dancers chipping in to underscore the internal struggles. Repeated interplay with cross lights added to it. Costumes — often a problem area in such period dramas — did not try to be authentic, but managed to pull the 100-minute-drama through.
 Aneek's adherence to rather highly pitched characterizations was to some extent cut short by guest actors. Debasish Dutta was impressive as an investigator torn between conflicting identities. Arup Roy's cultivation of stoic patterns in an otherwise passionate portrayal made a soothing impact. Prashanta Dutta stole the show with an understated portrayal. He developed the lead part bit by bit, guiding the audience into the oscillations within his mind and ultimately emerging as a Promethean hero with a heart.