Dig deeper for the drama
THEATRE: Gandhi on proscenium at Nandikar's National Theatre Festival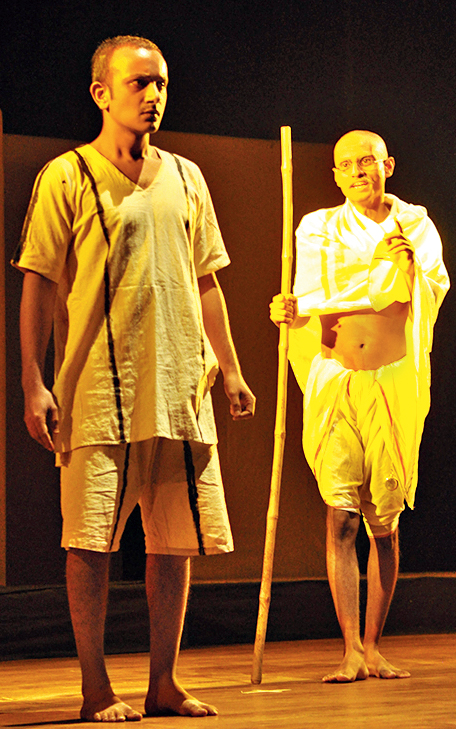 ---
Published 08.02.20, 08:35 AM
|
---
Gone are the days when every winter brought in choicest theatre productions from across the globe to the Calcutta auditoriums and Nandikar invited the best of contemporary Indian theatre. With the touring foreign companies giving Calcutta a pass, the longest winter in a long time also turned out to be the leanest. Among the outstation troupes, the National School of Drama Repertory Company (New Delhi) failed to manage a few brownie points either.
Usually the cynosure of all eyes in Nandikar's National Theatre Festival, the Repertory Company presented Pehla Satyagrahi before a capacity audience at the Academy of Fine Arts on December 23. This Ravindra Tripathy drama merely turned a few pages from Gandhi's life; watching it was akin to flipping through a coffee table tome. The overwhelming sense of déjà vu and the complete absence of a critical gaze made this 120-minute show an insipid affair. The director, Suresh Sharma, dotted the production with some brisk marches and raucous song and dance routines. Raju Roy's portrayal of Gandhi lacked authority, although the rest of the cast and the musicians did their best to salvage an otherwise disappointing work.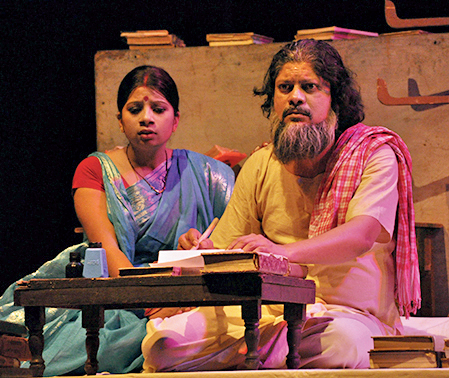 What would have happened had Gandhi survived the attempt on his life at Birla House? In Gandhi, playwright Asghar Wajahat worked on this premise and explored some likely situations, including a prolonged debate with Nathuram Godse inside a prison cell and fulfilment of the Mahatma's experiment with gram swaraj. Wondrous! Seasoned director, Arun Pandey, took up this rivetting text, never missing its subtleties as a small set of young actors representing Vivechana Rangmandal put up a commendable show. Given the intensity of Mehul Jadav's performance as Gandhi and the conviction of S. Shrighar as Godse, one longed to hear more of them and not the lovey-dovey subplot that fell just a little short of a being a spoilsport. Little Thespian deserves praise for bringing this Jabalpur group to Gyan Manch on November 22.
Their 9th National Theatre Festival also featured a scintillating Panchali, designed and performed by Pooja Kewat, and produced by Vama, another Jabalpur outfit. Never seen the Bharatiya Bhasha Parishad auditorium come alive in this manner.
Little Thespian also helped Jairangam Fringes festival debut in Calcutta (January 11-13, Gyan Manch). Given our limited exposure to theatre in Rajasthan, Veena Pani Kala Mandi's double bill came as a whiff of fresh air. Vritraj, presented in Jaipur Tamasha form, not only regaled a sparse audience with some indigenous entertainment made suitable for an urban audience, but also critically referred to the 1998 Black Buck poaching case involving an irresponsible bunch of Bollywood actors. Three generations of the Bhatt family led by Vasudev Bhatt held the musical act together and one expects more such indigenous pieces in the coming editions of Jairangam Fringes. The group also presented a caustic critique of contemporary Indian politics in Dhaba. A little more refined than a slum's-eye-view of Indian politics, the farce saw both Congress and BJP leaders out to fool the populace with the third alternative faring no better. The irreverent streak remained with us.
However, the toast of the festival was Neelkanth Neerala. Sanjay Upadhyay and his Nirman Kala Manch (Patna) have revived and reconstructed the theatre of Bhikhari Thakur and the Bidesia songs of the Bhojpuri region, which this city has appreciated greatly. With Neelkanth Neerala, they attempted a biodrama of Suryakant Tripathi Nirala. That Nirala was born in the feudal state of Mahishadal in undivided Midnapore and drew his early sustenance from Calcutta in the early 20th century, makes this a compelling watch. Hemant Mahaur's saintly act in the lead and a strong supporting cast led by Meghna Panchal as an admirer who balances the play, were complemented by some excellent accompaniment with Anil Mishra making his sarengi the most sober of all instruments.