New light
Jigir, a newly formed outfit led by Niladri Sekhar Banerjee, has produced Swapnamoy Chakraborty's maiden work as Namo Jantra Namo Dharma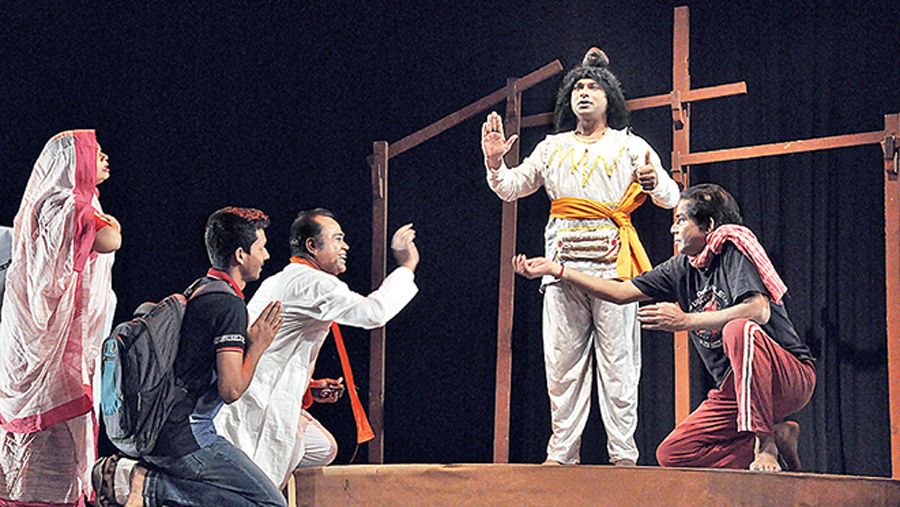 A still from Namo Jantra Namo Dharma.
Jigir
---
Published 22.05.21, 12:49 AM
|
---
Contemporary Bengali theatre often regrets the lack of original scripts. As poets and fiction writers often stay clear of theatre, the vision of a collective art practice remains an elusive dream, mostly. So, when Swapnamoy Chakraborty, among the most original authors of our time, attempts writing a play, expectations soar. Jigir, a newly formed outfit led by Niladri Sekhar Banerjee, has produced Chakraborty's maiden work as Namo Jantra Namo Dharma. Premiered before the pandemic set in, the 100-minute-long production was last staged at the Academy of Fine Arts auditorium on March 19.
Although the name resonates with Rabindranath Tagore's first significant critique of an industrial society in Muktadhara, the play dissects the mores and methods in which religion permeates a predominantly civic space with machines helping its spread. However, it is laced with a narrative that rejects realism and embraces fantasy with an element of carnivalesque thrown in.
With creative inputs from Jagannath Guha and aided by an arresting light design by Dinesh Poddar, Namo Jantra Namo Dharma opens in a showroom where 'bodies' are displayed. Chakraborty's knack for seemingly absurd situations results in an engaging sequence. Lit in azure blue, the showroom casts a spell as the middle-aged protagonist, played effectively by Biswajit Sarkar, looks for a female form to accompany him in roadside gigs. The successful mission leads to a number of street sequences where the duo enacts mythical characters to earn a living.
Things turn complicated when the hero gets a humanoid manufactured with programmed inputs. Driven by the market demand for Hindu gods, he programmes and dresses it accordingly. When the humanoid changes hands and is bought over by a Muslim labourer, it takes on an Islam cleric's role in the process. As communal tensions flare up, the humanoid adds fuel to it. The action moves back and forth in time. Designed in a tongue-in-cheek interview format, with a news journalist, this smartly directed play is remarkably frank and cutting in its satirical intent.
There is one rider. Cultural products like this should engage more directly with the people and venture beyond the proscenium. Playing before a handful of audience only undermines its potential.