Out of key
Tumbaga Media's 'My Name is Jaan', directed by Abanti Chakraborty, is a regular bio-drama with a rider which premiered at the G.D. Birla Sabhaghar on September 18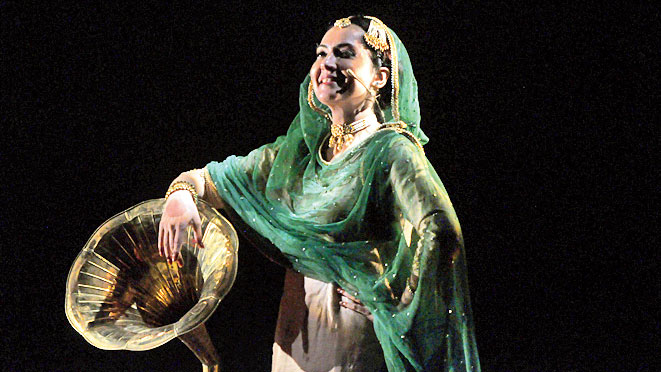 A moment from the performance of 'My Name is Jaan'.
Anshuman Bhowmick
---
Published 25.09.21, 01:07 AM
|
---
Gauhar Jaan, the 'first recording superstar' of India, continues to fascinate the Calcutta stage. Over the past two decades, the city has seen at least half a dozen productions celebrating the life and times of this singing sensation, including the ones travelling all the way from Berhampore and Mumbai. City-based Tumbaga Media's My Name is Jaan joins the list with a glittery solo act by Arpita, better known for her screen roles.
Directed by Abanti Chakraborty and premiered at the G.D. Birla Sabhaghar on September 18, this 95-minute show, separated by an interval, is a regular bio-drama with a rider. By picking select episodes from Gauhar Jaan's eventful life and weaving a first-person narrative with a feminist undertone, Chakraborty attempts a musical. Banking mostly on live singing supported by musicians in partial view, she designs an act tailor-made for a multitalented performer. Arpita's limited exposure to stage acting showed. The decision to employ Bengali with an Urdu accent did not help either. But her composure struck a chord with the audience and her proficiency in singing the numbers made famous by Gauhar Jaan lifted the show towards the end. Her way with purab ang thumri in "Choit mase bole re" and khemta numbers like "Phanki diye praner pakhi" was a cut above the rest.
The director was partially let down by her support team. Besides the customary phonograph (picture) that represented a later period and a betel-leaf case, none of the stage properties betrayed the age of Gauhar Jaan. Multiple shiftings during the short intervals kept lifting the veil of illusion rather unceremoniously. The projection of old photographs on the cyclorama, however worn-out it might be, could have boosted the period feel. But erroneous selections spoiled the show.
The costume designer, Poulami Gupta, and the make-up artist, Aniruddha Chakladar, saved the day for My Name is Jaan. Joy Sarkar's music score sounded apt, and Arpita's vocal trainer, Rajyasree Ghosh, must be lauded for honing her musical skills for all seasons, especially for the sequence where Gauhar Jaan is requested to entertain a multilingual audience.