Far from the madding crowd
Some theatre groups — both urban and rural — have made it their mission to develop their own performance spaces
A moment from Madhabi.
Chakdah Natyajan
---
Published 21.08.21, 01:39 AM
|
---
The Covid-19 pandemic may have posed a serious threat to proscenium theatre practice in the urban centres of West Bengal, but it has opened up new possibilities elsewhere. Some theatre groups — both urban and rural — made it their mission to develop their own performance spaces. However varied they might be — open-air or confined — they registered the local concerns and aesthetic parameters in varying degrees. This reviewer decided to travel to Chakdah and Bagula — both in the Nadia district — to take stock of the situation far from the madding crowd.
Chakdah Natyajan is slowly developing an open-air performance arena named Theacafe where the audience may sip a cup of tea and have light snacks as they enjoy a theatre performance. Curiously located amidst a lush green landscape, at a distance from the town centre, this space looked tailor-made for Kamlikatha (picture, left), the group's latest offering, which this reviewer watched in its second show on August 7.
With this full-length work written sensitively by Dipak Nayek and directed confidently by Rahul Dev Ghosh, Chakdah Natyajan renews its penchant for indigenous performance traditions; alkap, in this case. Ghosh deserves praise for making optimum use of the flexible arena, executing a challenging scenography with élan and training the Nadia actors in a form rather alien to them. As in other notable theatre works that have taken a leaf out of the alkap tradition, here too, Nayek keeps the focus firmly on Kamli, the chhukri or the female impersonator. How Kamli deals with the gender factor and the male attention is a subject that requires a sensitive portrayal, keeping finer nuances in mind. But young Priyanshu Das, despite his best efforts, failed to get beneath the skin of the character. Even though the playwright's and the director's flirtation with different time-frames and the unnecessary insertion of contemporary registers disturbed the ending, Kamlikatha was saved by fantastic live music and a strong supporting cast led by Palash Das playing the team leader-cum-trainer. Suman Paul and Sourav Biswas also gave nuanced performances.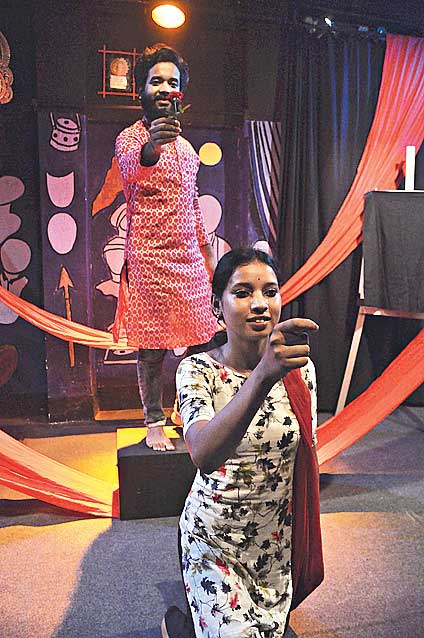 Bagula, located on the Sealdah-Gede railroad, hardly has access to a regular auditorium. With the nearest theatres at Krishnanagar and Ranaghat located a good 20 kilometres away, Suchana, a 32-year-old theatre group, had little option but to cater only to far off places till the pandemic struck. Within months, its rehearsal space located on Hanskhali Road, a 5-minute-walk from the rail station, was converted into a studio theatre. Christened Antar Prakash, this space hosted two of Suchana's latest works on the eve of Independence Day. Madhabi (picture, right), scripted and directed by Ditipriya, narrated how an acid-attack victim was left in the lurch by her family. Bajao Kenaram, loosely based on a popular Upendrakishore Ray Chowdhury tale and directed by Srijan, tickled the funny bone all along.
Separated by an interval, both the short pieces revealed a certain degree of professionalism by the members of Suchana — starting with the measured use of light and sound, to competent acting, especially the wholesome use of slapstick in Bajao Kenaram. Given the architecture of Antar Prakash, one would expect full-length productions designed exclusively for the space, keeping in mind the audience sitting on three sides of the arena.