A full bodied operatic performance
The 50-minute-long drama turned out to be an absorbing one, addressing the prevalent pandemic scenario and taking a cue from the indigenous pala tradition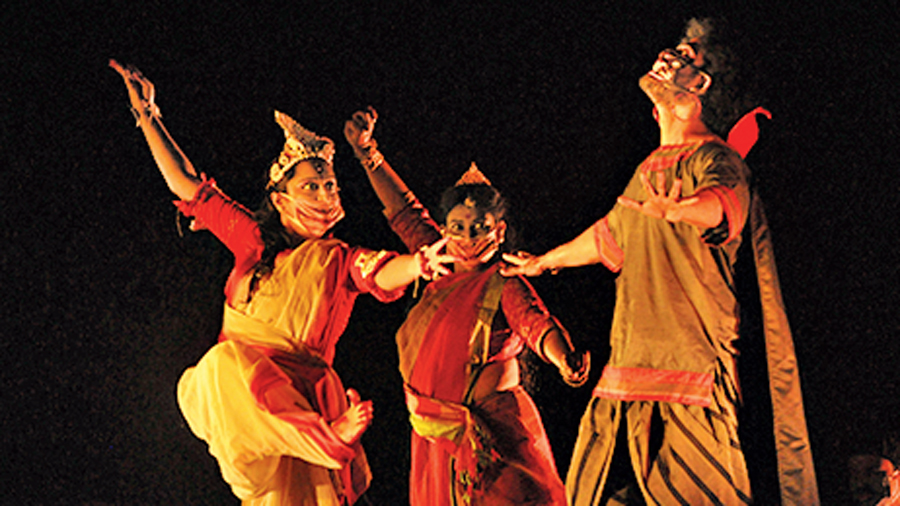 A moment from Jwarasura Badh Pala.
Purba Paschim
---
Published 31.10.20, 12:40 AM
|
---
With the lifting of restrictions on open-air theatre activities from September 21, Purba Paschim premiered Jwarasura Badh Pala at the Aikatan grounds of the Eastern Zonal Cultural Centre in Bidhannagar on that very evening. Masks were in place. Sanitizing was done and social distancing norms were meticulously observed as about 100 people turned up to experience the show. Produced in collaboration with EZCC, the 50-minute-long drama turned out to be an absorbing one. Not only for addressing the prevalent pandemic scenario straightaway and taking a cue from the indigenous pala tradition, but also for attempting a happy reunion of the great and little traditions of the Hindu pantheon under a quasi-mythological garb. 
Ujjwal Chattopadhyay, the playwright, recalls Jwarasura, that is, the Fever Demon, from the not-so-fancied oral tradition. His menacing ways with the virus made one remember Mahisasura from the Markandeya Purana and Sphinx from Oedipus Rex. The director, Soumitra Mitra, was too happy to pay a tribute to Bohurupee's legendary production, Raja Oedipus, in the opening sequence featuring King Katyayan (Tarun Paul) and the royal physician, Sujib (Pradip Hait). Batuk (Anirban Chattopadhyay), who comes to the rescue, was clearly constructed upon Shiva. The choice of the music director, Abhijit Acharya, to use gambhira pieces to underline his prowess made the connection obvious. 
With Katyayani (Suchandra Show) and Parvati (Koyel Roy) joining forces, Jwarasura (Sanjoy Chakraborty) was easily tamed. Interestingly, the goddesses not only wielded the trident, but also the broomstick, à la goddess Shitala, to restore health and hygiene. Does this sound redundant and unapologetically religious? Not really, as Mitra, in plain clothes, takes to the stage in the dying minutes and remembers the scientists and frontline health workers, and pays tribute to Bengal's syncretic saviours like Satyapeer (Saiful Islam), who also makes a fleeting presence. The players wore masks designed by Phalguni Sutradhar. Inspired by the Chhau masks from Purulia, these cotton masks with iconographic designs around the mouth cavity spoke volumes about hybridization in contemporary art practice. 
With Sukalyan Bhattacharjee as the choreographer and Acharya leading from the front, Jwarasura Badh Pala is loaded with materials of a full-bodied musical. Whether Mitra will leave it half-done or carry it forward remains to be seen.