Fresh roots
'Indurkol' raises issues of Statist oppression and people's resistance to it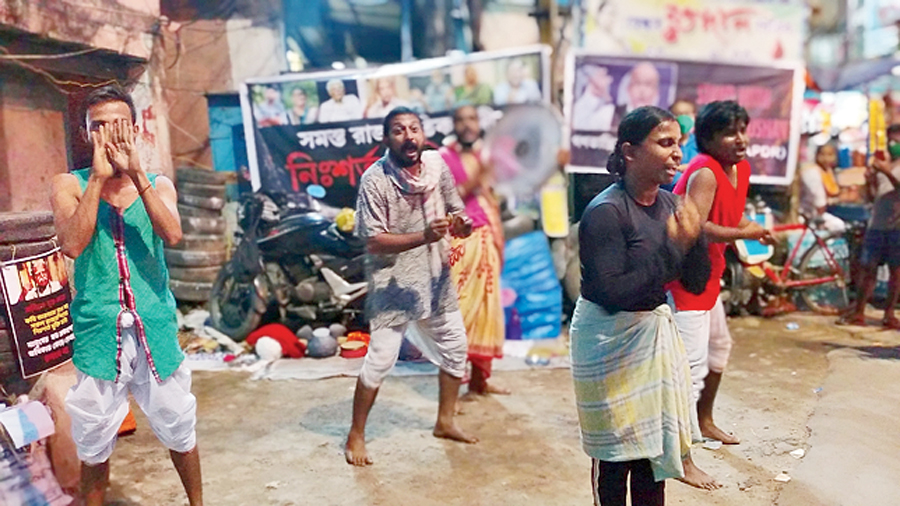 A moment from Jana Gana Mana's street theatre production, Indurkol.
Dipankar Sen
---
Published 03.10.20, 01:17 AM
|
---
To the chequered history of agitprop street theatre in Bengal, Indurkol, produced by the newly floated outfit, Jana Gana Mana, is a recent addition. If time can privilege certain forms of theatre over others, the present-day is certainly fertile ground for agitprop street theatre/open-air theatre to strike fresh roots and flourish. The Covid-19 pandemic has engendered a mistrust of closed, indoor spaces so that performer and viewer alike are looking to step out into the open. Moreover, and more significantly, the nation is seething with deep discontent at policies and programmes of the Central government which many find divisive, non-inclusive and at times in violation of constitutional provisions. 
Thus, the time is ripe for agitprop theatre to hit the streets, as historically it had on Chaitanya Mahaprabhu's stirring reformist call or upon being pressed into action by the Indian People's Theatre Association's political schemata. The young performers of Indurkol, led by the energetic Subhankar Dassharma, will do well to remain mindful of the vibrant tradition of agitprop street theatre in Bengal so that each performance becomes an exercise in connecting to the tradition. 
The performance watched by this reviewer in early September at Baruipur was part of a programme organized by APDR, the well-known pressure group working in the broad area of protection of human rights. Indurkol gelled perfectly with the mood of the event, raising as it did issues of Statist oppression and people's resistance to it. The fable-like narrative, the dialogues in unpolished doggerel, the simple plot line, the frequent recourse to boisterous, earthy singing and dancing cumulatively contributed towards the play being able to engage the sizeable audience, mostly made up of passers-by who had chosen to stop to watch the spectacle. 
The relatively green performers creditably negotiated at least two major challenges — a very uneven, shard-laden surface on which to work and the ceaseless stream of vehicular and human traffic that generated almost maddening ambient noise. The two aspects requiring attention are finding means of drawing the audience, organically and unremittingly, within the performative ring and tweaking the singing in a manner that would enable better registering of the lyrics.