Pulled apart
Chetana premiered two productions on November 22, its foundation day, at the Academy of Fine Arts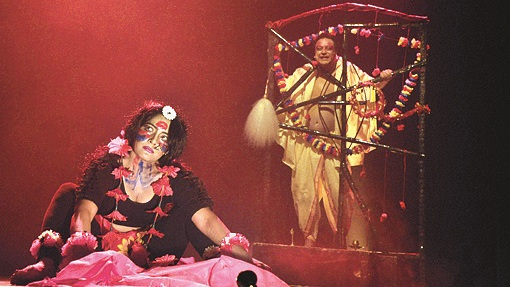 ---
---
Chetana reaffirmed its commitment to political theatre by premiering two productions on November 22, its foundation day, at the Academy of Fine Arts. Whereas Girgiti — adapted from a Safdar Hashmi play by Arun Mukhopadhyay and directed by Sujan Mukhopadhyay — is essentially a rework; Kusum Kusum left a lasting impression.
Loosely based on Girish Karnad's "Flowers" — a monologue which explores a Shaivite priest's struggle with desire and devotion — Kusum Kusum finds Ujjwal Chattopadhyay at an experimental high. Not only does he give it to a predominantly Shakta character, he weaves a richly layered tapestry where asceticism and eroticism are at loggerheads with a conflict between political and religious authority forming a major undercurrent. Chattopadhyay's recent concern about the systematic subjugation of feminine principle finds a comrade-in-arms in Abanti Chakraborty. Chakraborty, the first guest director to steer a Chetana production, gives the feminine a physical existence, explores the contrarian forces furthermore, heightens the psychosexual tension by splitting the spatial units, and underlines the dichotomy of abstinence and procreation. At the end of this 50-minute-drama, the priest (Sujan Mukhopadhyay) and the prostitute (Nivedita Mukhopadhyay) sort of merge to form a subversive tool in a climate vitiated by political exploitation of religion. By exploring temple rituals rooted in cultural tradition and socio-political climate of Bengal, and reinterpreting Rabindrasangeet numbers like "Maharaj eki saje" and "Ami jakhan tar duare", as well as the 18th-century Kamalakanta Bhattacharya composition, "Amaar sadh na mitilo", Chakraborty lends this drama a distinctive feminist tone. Such hybridization ploys fit the overall mounting of the drama. Prominent use of live music — especially the invigorating beating of the dhak — connects Kusum Kusum to similar situations in Jagannath, a Chetana milestone.
The members of the Mukhopadhyay duo complement each other well on stage and respond spontaneously to Chakraborty's signature designs involving white robes and vermillion. Sujan's commanding stage presence and singing voice come handy. One would expect a less hurried and more nuanced portrayal at crucial junctures like the one where the priest confronts the king. After all a dramatic monologue needs an audience and vulnerability appeals more.