Grand return
Kolkata Playmakers' latest venture Chitrakar is a dramatization of Tirthankar Chanda's stage adaption of Tagore's short story by the same title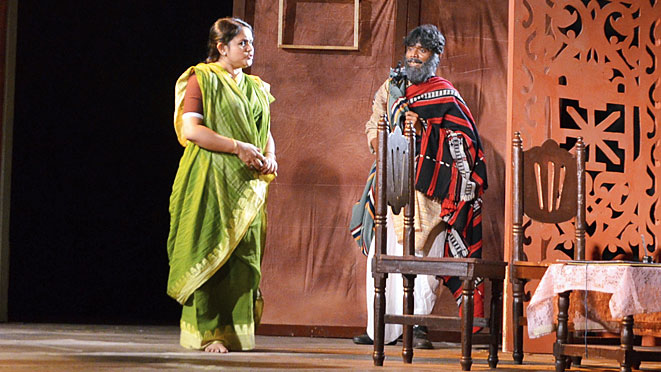 A scene from Chitrakar.
Kolkata Playmakers
---
Published 24.12.21, 11:59 PM
|
---
The experience of watching Kolkata Playmakers' latest venture Chitrakar (a dramatization of Tirthankar Chanda's stage adaption of Tagore's short story by the same title) is akin to that of time travel, as everything about the production bears the time-stamp of theatre practice of the 1980s or 1990s. The performative codes employed in terms of overarching design and mode of acting unfailingly reveal the bias of the director, Ram Mukhopadhyay, towards a theatre template of a bygone era.
If the aim here was to create a new old play, the makers stand entirely successful. A large part of this success is attributable to the acting, with the cast competently bringing back declamatory verbalizing and stylized gestures associated with theatre of the past. Prasenjit Bhattacharya (Mukunda) and Saptarshi Bhowmick (Rangalal) satisfy their director's brief, etching out their respective characters with creditable flair. Labani Sarkar as Satyabati, who is otherwise quite effective, fails to exploit the performative potential of her character's transformative moment, with neither her voice nor her body projecting the climactic import of the scene. The prefatory section, in which focused light falls in succession on the characters to give a glimpse into each of them, is well-conceived and executed.
The datedness of Chitrakar as a play is not really an issue as the exercise turns out to be rather enjoyable. The problem lies elsewhere, specifically in the directorial judgment to read the text and mount the play naturalistically as opposed to allegorically.
With the characters and events taken as representations of actual human beings and life moments, Satyabati's impulse-driven choice to step out into the unknown (with two dependents in tow) stands open to a host of germane questions that remain unasked and unanswered. However, if Tagore's text (and the drama as penned by the playwright) had been read as an emblematic portrayal of a conflict of ideologies (the materialistic versus the romantic, embodied by Mukunda and Rangalal respectively) and had the play been freed from its bondedness to naturalism, Chitrakar's central problem would have ceased to exist.