Brought to life
Chi Chi Land, Dolls Theatre's latest offering, played out before a small, but engrossed, audience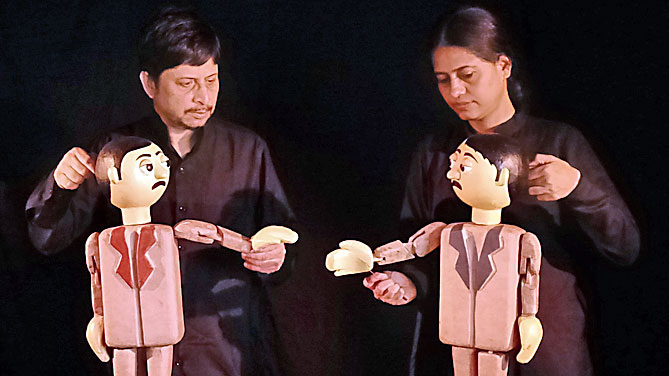 A moment from Chi Chi Land.
Dipankar Sen
---
Published 18.09.21, 12:04 AM
|
---
Having toured parts of the globe with its brand of puppet theatre, Dolls Theatre has come back home in the most literal sense. Sudip Gupta and Shreeparna Bhanja Gupta, the principal organizers of the group, have modified a floor of their residence into a performance space and christened it Puppetorium. This is where Chi Chi Land, the group's latest offering, played out before a small, but engrossed, audience.
By adapting a political allegory by Debiprasad Sengupta into a play that has human actors performing alongside puppets, the director, Sudip Gupta, attempts to redefine the thematic and formal boundaries of puppet theatre. Chi Chi Land explores the dynamics of the nexus between corporate capital and political structures and its role in drumming up militant nationalism, reducing the masses to a state of hapless misery. This is relatively new thematic ground for Indian puppet theatre, given its marked tendency to eschew overtly political content. The introduction of human players into the mix of table-top puppets brought about an intriguing performative complexity with the controller/controlled divide being continuously blurred vis-à-vis puppets and puppeteers/actors.
Used schematically in compositions, the actors come across as extensions of the puppets and this ploy mostly works meaningfully. But with the script demanding that the character, Tom Tom, be segregated from the others, Gupta should have designed a distinct performative code for this character. There is also work to be done with music and light designs.
In Chi Chi Land, as in other productions by Dolls Theatre, the puppets manage to steal the show — one develops an appreciation for the inner workings of successful puppet plays. Puppets are crafted by humans and are controlled by them. However, when and if puppets dominate the show, it is because the humans are successful in teasing life out of the puppets and in unobtrusively easing themselves into the background. Gupta and his team, having mastered this art of marking presence and absence, are able to create puppet theatre magic.