Tough times
An adaptation of Mohit Chattopadhyay's 'Kalo Bag', 'Capture' runs for 20 minutes, underlining the predilection of the times for short plays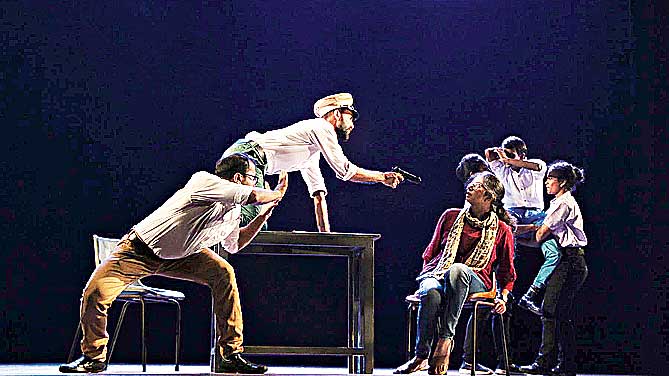 Capture.
Beadon Street Shubham Repertoire
---
Published 30.10.21, 06:41 AM
|
---
Theatre, for reasons too many and too complex to go into in this piece, is going through an extremely testing phase in Calcutta and beyond. But, in spite of the bleak times, Beadon Street Shubham Repertoire is producing exciting new plays every now and then. More importantly, this Repertoire has emerged as a fine nursery for scores of fresh, young talent, who should go on to oxygenate theatre practice in the coming days. Quite fittingly, a youthful team, led from the front by the debutant director, Asmita Khan, took the stage for a performance of Capture, the latest production of the group.
An adaptation of Mohit Chattopadhyay's Kalo Bag, the taut performance runs for 20 minutes, underlining the predilection of the times for short plays. The adaptation, left without credit in the publicity apparatus, does not tinker much with the original save for minor additions that inject contemporaneity.
Kalo Bag is quintessential Chattopadhyay — an absurdist allegory presented in the garb of realism. Khan displays keen directorial acumen by allowing a dialectical playing out of a realistic performative code against one that is highly stylized, thereby unceasingly touching the dual axes of absurdity and realism. The two complementary performative movements, with the central character remaining understated against the exaggerated supporting characters, work with clockwork precision, bearing testimony to serious hours spent in preparation.
The narrative has the protagonist misplace a black bag in a taxi, compelling her to undertake a series of frustrating visits to a number of police stations. The endless circuit through mazes of police bureaucracy is Kafkaesque, as is the final grimly bizarre turn of events that lead to the wretched protagonist being incarcerated, deemed guilty of crimes she never committed. Commendably restraining herself, Khan does not overtly emphasize the allegorical thrust of the text, leaving it to the audience to figure out that Capture is not a limited critique of the flawed police system, but a broad philosophical comment on human condition itself.