Look again
Written by Padmanabha Dasgupta and directed by Kamaleswar Mukherjee, Bishwasghatak: The Great Betrayal work ran for more than 160 minutes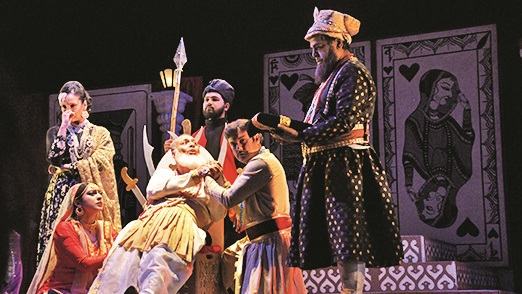 A moment from Bishwasghatak: The Great Betrayal.
Anshuman Bhowmick
---
Published 20.03.21, 06:39 AM
|
---
As the politics of topplers and turncoats gets more intriguing in the run-up to the elections for the West Bengal legislative assembly, Rashbehari Shailushik takes a retrospective look at the most decisive event of Bengal's political history — the Battle of Plassey. Premiered on January 24, Bishwasghatak: The Great Betrayal was staged for the third time at the Academy of Fine Arts on March 16.
Written by Padmanabha Dasgupta and directed by Kamaleswar Mukherjee, this significant work running for more than 160 minutes brings back memories of 1938 when the Sachindra Nath Sengupta-Nirmalendu Lahiri combine attempted Sirajuddaula — arguably the most popular drama across the Bengali-speaking regions till date. If Sirajuddaula succeeded in revising the colonial reading of the Battle of Plassey and exercising the romantic imagination to reinstall Siraj as a nationalist hero when the communal juggernaut was running amok, Bishwasghatak attempts an analytical relook at capitalist interests going all out to shape our regional history.
Dasgupta draws heavily from contemporary researchers like Abul Kalam Mohammed Zakariah, and incorporates apocryphal stories and legends to craft a layered narrative. Siraj, played effectively by Dasgupta himself, is given a clean chit. The dubious roles of local zamindars like Krishnachandra of Nadia and Rani Bhowani of Natore were brought under scrutiny. Notably, the conflicting interests of the women of the nawab family were given their due — a major departure from the grand narrative that only Syed Shamsul Haq attempted in recent years.
Mukherjee opts for melodrama and the Shailushik actors carry it with aplomb. By delivering Persian, Bengali and English with flawless competence, they underscore the multilingual, multi-ethnic domain that Bengal is. Although the set was a major disappointment and the choreography was inconsistent, the costumes made the cut and the music was just appropriate. Using Bhimsen Joshi's rendition of 'Ketaki gulab juhi' from the soundtrack of Basant Bahar (1956) to augment Dol celebrations in Murshidabad
was clever, and arranging a chance meeting between Siraj and Ramprasad Sen at Halisahar to underline the sweeping syncretism in Bengal was brilliant. Live singing would have been the icing on the cake.