Into the light
'Binoyer Jibon' is principally darkly lit with blue/green undertones, making the gloomy recesses of the tormented Binoy Majumder's psyche visible, almost palpable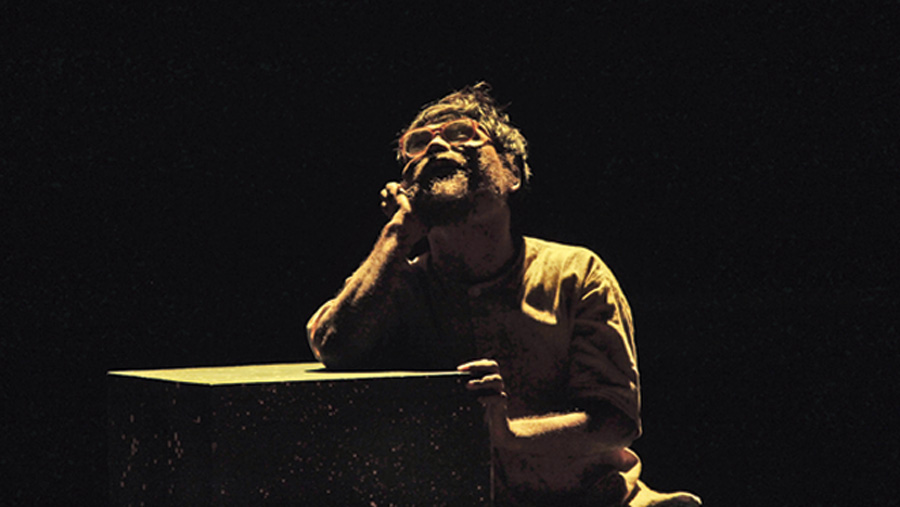 A moment from the play, Binoyer Jibon.
Dipankar Sen
---
Published 10.07.21, 12:16 AM
|
---
Theatre theorists and practitioners generally agree to use light to make objects visible, even while keeping it mostly indiscernible, except when, say, a turn of mood or a plot flashpoint requires emphasis or special lighting. Only once in a long while, there will come along a production that will make visible one of the great invisibles of theatre — light. In such a production, light will be the prime mover of the action, governing the emotional and tonal structure of the narrative and becoming a ubiquitous character in itself.  
Such a production is Binoyer Jibon, produced by Theatre Zone, scripted and directed by Sudip Sinha with Prithiwis Rana designing the light. Arguably, the light design of Binoyer Jibon is among the most inspired in recent times, with Rana displaying mastery over his craft and a nuanced grasp of the text. The resounding success of the light design stems from it being unswervingly motivated by the text. 
The play is principally darkly lit with blue/green undertones, making the gloomy recesses of the tormented Binoy Majumder's psyche visible, almost palpable. Lighting up the audience as the poet, in darkness himself, recites one of his creations, is a splendid metaphor for art emerging from darkness to illuminate the recipients. There are moments of exhilarating theatre (a tram accident, a riot sequence) wherein light is of paramount importance. Abhra Dasgupta's handling of the light console is akin to that of a painter's wielding of a masterly brush. 
Sudip Sinha, on his part, exhibits fine directorial facility by fragmenting the narrative into episodic units and then subjecting such units to discrete, scenographic imagination. However, with the light, the soundscape and the backdrop graphic holding everything together, the episodes coalesce to unify the narrative. 
Sumanta Ray excels as Binoy Majumder, studiedly fleshing out the distressed genius of the poet through (well-researched) speech and gestures. Buddhadeb Das as the poet, Jibanananda, is stiff in parts, while Mithu Chakraborty performs fluently in her two roles. If for obvious reasons, Binoyer Jibon invites comparison with the critically acclaimed Karubasana (directed by Arpita Ghosh), the former should emerge favourably in almost all respects.