Newer vision
Durgapur Bhimroti's Bhanganer Pathe premiered on September 19 at the ground floor hall of a community school located inside Sahapur Government Housing Estate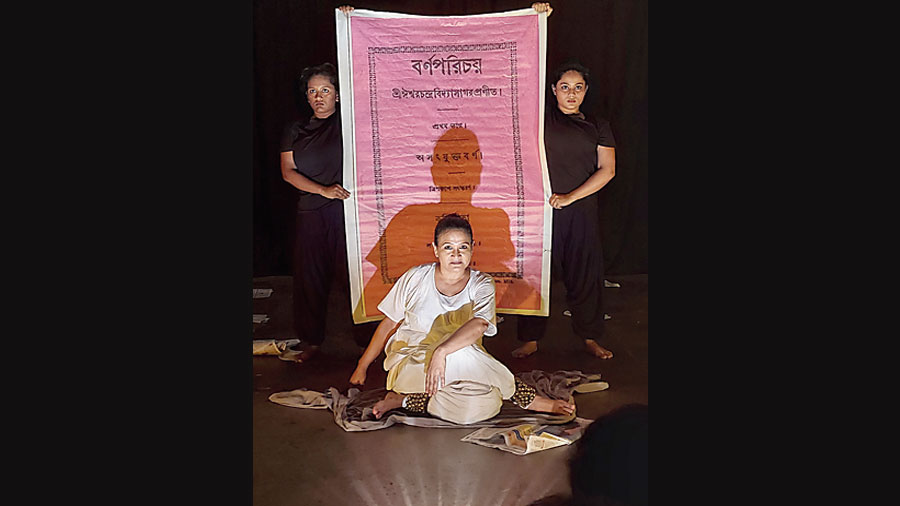 A moment from Bhanganer Pathe.
Anshuman Bhowmick
---
Published 06.11.21, 08:13 AM
|
---
Scripting an alternative theatre performance is getting more and more exciting. With various modes of devised theatre currently at play, the primacy of the playwright is no longer there. In fact, the conventional idea of structured drama has been pushed to the sidelines. The absence of an overwhelming proscenium arch, and its ancillaries, has provided a stimulus to experiment with the format, including the length and the design of the production. Durgapur Bhimroti's Bhanganer Pathe, which premiered on September 19 at the ground floor hall of a community school located inside Sahapur Government Housing Estate, fulfilled many of the parameters evolving of late.
This 35-minute-long act, named after Rabindranath's "Tumi kon bhanganer pathe ele" that served as an instrumental prologue, was based on two Facebook posts — one by academic-cum-author Parimal Bhattacharya, and another by the journalist, Arka Bhaduri. While the former responded to the May 2019 vandalism of an Ishwarchandra Vidyasagar bust at the Vidyasagar College premises on Bidhan Sarani (referred to as Cornwallis Street to underline its antiquity) and lambasted the steady decline of the education system, the latter analysed the repercussions of the Covid-19 pandemic on underprivileged school students. Taken together, the posts explored the escalation in social inequality and drainage of human resources in the state of West Bengal.
The director, Dipankar Sen, retained the satiric intent of the original posts, and allowed Nayana Saha, the main actor, to explore the inherent dramatic possibilities. Two masked young actors in black slithered along the arena, crouched around the centre stage to complement the verbal aspects. Saha, suitably clothed in white with a Vidyasagari chadar, never tried to emulate the man and his manners, but went deep into the role with her clear diction and nuanced delivery. At one point towards the end, she easefully guided two teenaged members of the small audience into the arena, made them improvise with the actors, before letting them go. It cemented the intensity of the act.
Such ploys may not have worked so well had the light designer, Sunit Bhoi, not come up with innovative projection ideas and the sound designer, Sankha Sen, charted a parallel narrative through musical interludes.