Local colours
A two-day theatre festival hosted by Bankura Theatre Academy on the hallowed premises of Bankura Banga Vidyalaya was a pleasant surprise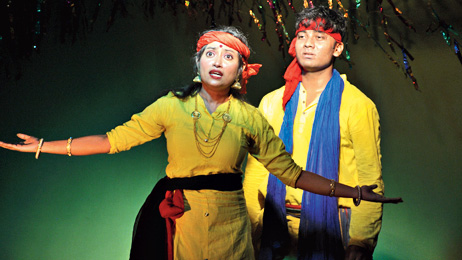 A moment from Kainya Shashir Pala.
Anshuman Bhowmick
---
Published 04.09.21, 12:01 AM
|
---
Given our limited exposure to contemporary theatre practice in the Bankura district, the two-day theatre festival (August 28-29) hosted by Bankura Theatre Academy on the hallowed premises of Bankura Banga Vidyalaya was a pleasant surprise for this reviewer. For one, it was a departure from the not-so-competent adaptations of Calcutta-centric productions and practices. Secondly, and more significantly, it tried to explore dramatic possibilities in local aesthetics and literary works rooted in the region. 
It required Sayik Siddiquee, an immensely talented actor-director from Mymensingh in Bangladesh, to break the deadlock. The inaugural evening saw the 39th staging of Kainya Shashir Pala, a typical Siddiquee drama — a full-bodied musical with lots of bawdy humour and contemporary references thrown in. It follows the plotline of 'Mymensingh Geetika', where the prettiest girl of one region falls in love with the most eligible bachelor of another, but a lusty chieftain starts playing spoilsport. One must laud the BTA actors for appropriating a theatre form rooted in Mymensingh, including the song-and-dance routines prevalent in narrative theatre mode; not to mention the language — a Bengali loaded with Persian loans. For a change, Kainya Shashir Pala implants a scene or two steeped in jatra. It blends well.
The second evening saw the premiere of Rami Chandrabalir Pala. Scripted and directed by Arunava Banerjee, this 90-minute production revisits the legends surrounding Baru Chandidas, the priest-turned-poet from Bankura whose relationship with Rami disturbed the Brahminical social order and possibly inspired him to compose Srikrishnakirtana, one of the masterpieces of medieval Bengali literature. Banerjee attempts a happy union of the legend and the literary work, and succeeds in erecting a colourful show. BTA actors — most prominently, Sayanti Nandi, who essays the female lead in both the productions — betray an eagerness to prove their mettle. Banerjee is ably supported by the choreographer, Sandip Mukherjee, and the stage designer, Sanghita Mitra. If BTA takes this revival project farther and motivates Mukherjee to go deep into the terracotta temples of Bankura, works like these may end up showcasing the unique cultural heritage of the region.