Justice denied
Baishe August follows The Passion of Sacco and Vanzetti (1953) closely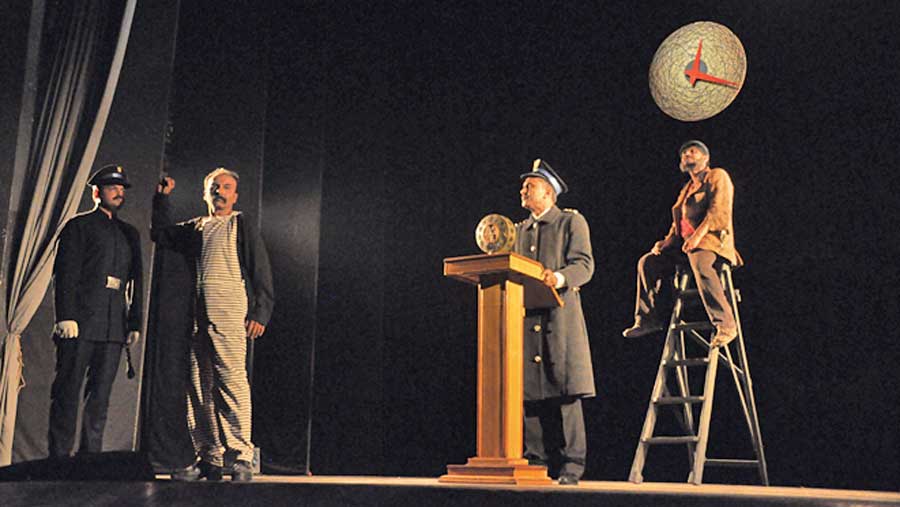 A moment from Baishe August.
Anshuman Bhowmick
---
Published 24.07.21, 01:30 AM
|
---
Continuing with the success of Kojagori, Belgharia Avimukh renewed their association with Howard Fast in Baishe August which premiered at the Academy of Fine Arts on March 3.
Kojagori was loosely based on Silas Timberman. Baishe August follows The Passion of Sacco and Vanzetti (1953) closely. In 1920, Sacco, a shoemaker, and Vanzetti, a fish-seller, were accused of murdering two men during an armed robbery at a factory in Braintree, Massachusetts. It was clear that the accused were not directly involved in the murder. Yet, scapegoats were made out of them and the long arm of the law could do little justice.
Kaushik Chattopadhyay, who dramatized and directed Baishe August, developed the plot at a relaxed place, allowing us to recognize the nitty-gritties of how the State functions and treats its subjects. Multiculturalism in the United States of America was also put under the scanner. Switching between the personal and the public domains, with the omnipresent media snooping at everything, looked overdone at times, stretching the length to 160 minutes in the process. As the recent death of Stan Swamy sent shock waves across the nation, Baishe August seemed more relevant with time.
Chattopadhyay's recent fascination with hybrid time led to some engaging dramatic moments in Santipur Sanskritik's Anshupat Upakhyan, one of the casualties of the pandemic. In Baishe August, Chattopadhyay goes the whole hog. If introducing a young journalist duo — contemporary, urbane and sensitive to the uses and abuses of the civil rights movement — was an effort to bridge the spatial zones, constant references to the India of 2021 in the alibi to place things in perspective, was a ploy that worked.
The set designer, Hiran Mitra, placed a clock above the centre stage, which is periodically set by a seemingly paralyzed technician carrying a ladder, triggering an absurdist streak. Dipankar Dey's light design prioritized white, a welcome move. Performance-wise, Baishe August rests on the shoulders of Kalyanbrata Ghosh Mazumder and Anujoy Chattopadhyay, with sensitive support from Ronia Roy and Juin Bagchi. The ensemble cast, picked from all corners of North 24 Parganas, underlined the group's commitment to socially relevant theatre.