Find the light
An early August evening saw Dark Studio hosting a performance of Ashokenagar Protibimbo's production, Khokada (directed by Partha Sarathi Raha)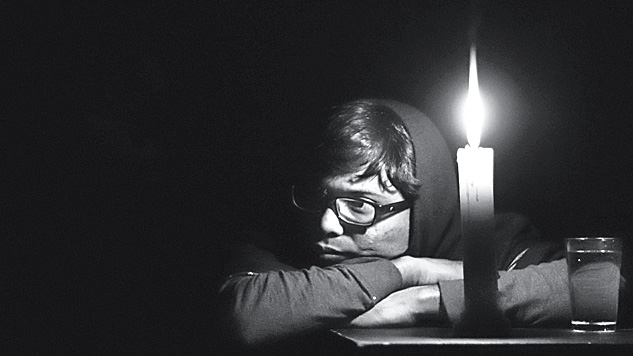 A moment from the play.
Dipankar Sen
---
Published 11.09.21, 01:01 AM
|
---
A mark of inventive resilience exhibited by theatre artists during lockdown has to be the discovery of new performance spaces. Take Dark Studio, for example. Tucked away inside the meandering entrails of Dumdum, an erstwhile office-cum-warehouse in a corporation building has metamorphosed into a neat little performance space, incorporating aspects of both studio and black box. An early August evening saw Dark Studio hosting a performance of Ashokenagar Protibimbo's production, Khokada (directed by Partha Sarathi Raha). It is also a sign of the times that Raha, known chiefly for full-blown proscenium productions, has chosen to venture into the much smaller, off-proscenium space that a site like Dark Studio offers. However, the ghost of proscenium design — chiefly in terms of the definitive zonal segregation of actor and audience — haunts Khokada, proving, yet again, that spatial aesthetics essentially remain overlooked in off-proscenium projects.
The narrative premise of Khokada is rather clichéd, employing the much-used trope of an actor (Khokada), who is waiting for the 'real play' to begin, striking up a one-way conversation with the assembled audience. Flashbacks, presented as episodic compositions, follow one another as Khokada randomly reminisces about friends and acquaintances.  Even though much is said and shown, the plot fails to reach a coherent, significant culmination.
In spite of its shortcomings, the play, powered by the twin engines of Prithiwis Rana's light design and Sumanta Roy's performance in the title role, makes for a gripping watch. While Rana's skill of evoking darkness with light fascinates, his ability to blend the light emitted by a candle with the light coming from an electric spotlight into a smooth diffusion is genuinely captivating. Roy turns in a controlled performance, laying stress on voice modulation to project his character and allowing facial expressions and nuanced gestures to do the rest. His rendering of a broken, slightly off-key, Tagore song is quite brilliant.
As director, Raha can explore the possibilities that lie in endowing the burning candle with multiple dimensions. With the text replete with synaesthetic images, can Rana attempt the impossible — that is, suggesting smell through light?