A patchwork of ideas
Aloke Chakravorty directs Saadat Hasan Manto's 'Toba Tek Singh' for Renaissance; multilingual production spanning 90 minutes celebrates cosmopolitan Calcutta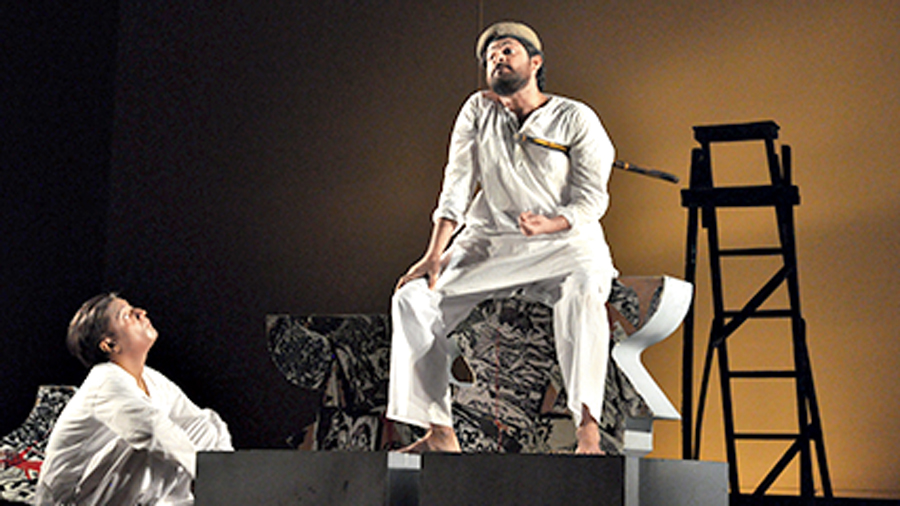 A moment from Toba Tek Singh.
Renaissance
---
Published 12.06.21, 12:27 AM
|
---
Saadat Hasan Manto's short stories, especially the ones exploring the sombre darkness enveloping the Partition of 1947, have fascinated Indian theatre directors and actors over the last three decades. Closer home, Usha Ganguli directed the Manto trilogy for Rangakarmee. Now Aloke Chakravorty directs Toba Tek Singh for Renaissance. It was premiered at Girish Mancha on March 31. Besides choosing the road not taken and touching a few raw nerves in the process, this multilingual production spanning around 90 minutes celebrates cosmopolitan Calcutta in glowing terms.
The Bhagalpur-based playwright, Rajesh Kumar, stunned us a few summers back with Khaise Sukhia Marse, a chilling commentary on the agricultural crisis in the Hindi heartland. In Toba Tek Singh, he develops a layered script. Not just "Toba Tek Singh", but he also brings in bits and pieces from similar tales like "Khol Do" to reinforce the quantum of human tragedy during Partition. Kumar wraps it up with selections from Manto's autobiographical writings and letters received by him, but ensures smooth transitions between the two worlds. What might have ended in a series of soliloquies interrupted by dramatic moments was transformed into an engaging drama by the director. By splitting the Manto figure into three and casting three consummate actors (Avinash Gupta, Praveen Kumar Sharma and Kamal Mishra) in white kurta and pajama to play them in rotation, Chakravorty infuses dynamism into the narration. He allows the audience to exercise their imagination as the same actors — with little additional props — enact the crucial scenes, including the ones featuring Toba Tek Singh towards the end.
 Sunil Mitra designs a multifunctional set with blocks that keeps one guessing till the end. Dishari Chakraborty devises an uncharacteristically low-key soundscape to complement the solemnness. The light designer, Jayanta Mukhopadhyay, explores various shades of darkness punctuated by sudden illuminations, and one particularly brilliant flash of the Indian Tricolour on the blue cyclorama when Independence is proclaimed in the play.
However, it was the felicity of the actors in conveying the kernel of the matter in chaste Urdu, earthy Hindustani, soulful Punjabi and elegant English that made Toba Tek Singh a compelling watch.