The truth between the lines
Amritah Sen's recent show, Wrong Routes depicts that much of life is, indeed, about routes; routes taken, missed, detoured into, by choice or chance, covered or abandoned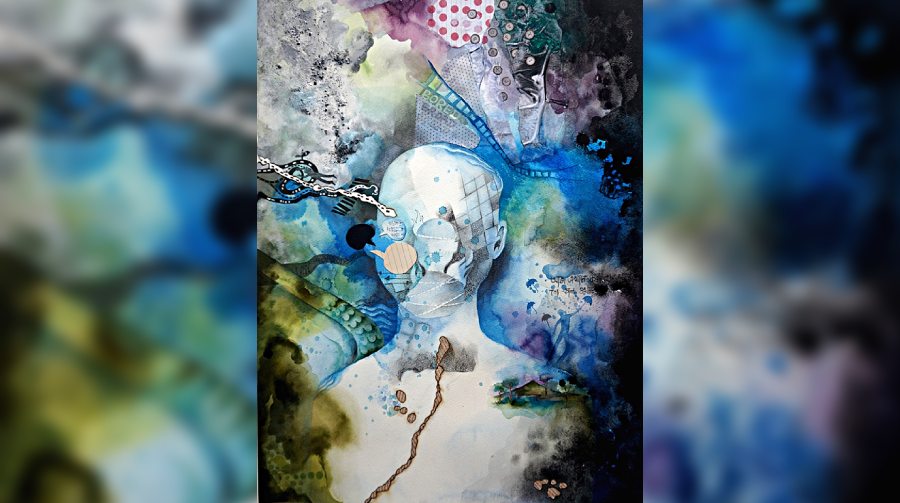 ---
Published 28.05.22, 02:38 AM
|
---
An awareness grew while viewing Amritah Sen's recent show, Wrong Routes, at Ganges Art Gallery: that much of life is, indeed, about routes; routes taken, missed, detoured into, by choice or chance, covered or abandoned. At the end of the day, to discover that your regrets outweigh your relief is to be hung up by the feet, as it were — a recurring image in Sen's art — and helpless to reverse direction.
This insight into the human situation is too dark, too defeatist to be taken earnestly. Hence, banter is Sen's retort to life's perfidy, so there. The images and text in her paintings, newspaper pages, pop-up books, the paper-craft boxes and videos drop little innuendoes with such comic flair that the viewers can't but digest the grim with grins.
How often does a fall disguise itself as a rise, asks a line in Sen's Ink Blot Test. Because everybody has a story. But then everybody also has a real story. Is that why a Rorschach test is needed? Images strewn across thin, pervious greys and beige, hang excerpts of stories with ellipses to fill in. For example, if there's a ladder against a tower and a figure stands on top, peering down, you wonder whether he's suicidal and whether that limp hand in one corner is his. But then there's a clock urging you to move on, the mantra of the millennium.
The newspapers demand detailed scrutiny to savour their irony. Edvard Munch's Scream becomes the Page 1-highlight in one, "fake" though it is. Its postscript is Subhash Mukhopadhyay's popular poem, "Priyo Phul Khelbar Din Noy Adya", which sounds like a dire warning of imminent destruction. Elsewhere, the artist spoofs footwear advertisements. After all, routes need footwear. But even right routes turn out to be wrong sometimes, as the migrant labourers found out in 2020. The pop-up books, videos and paper-craft boxes — which, with curtains, are like the stage — skip across a mash-up of references to suggest what Sen sees life as: a rollicking black farce.