The liminal world of a quiet rebel
Kartick Chandra Pyne may have been a gentle soul to be described as a rebel, but through his intuitive artistic language, he, in his own way, succeeded in interrogating our established views of art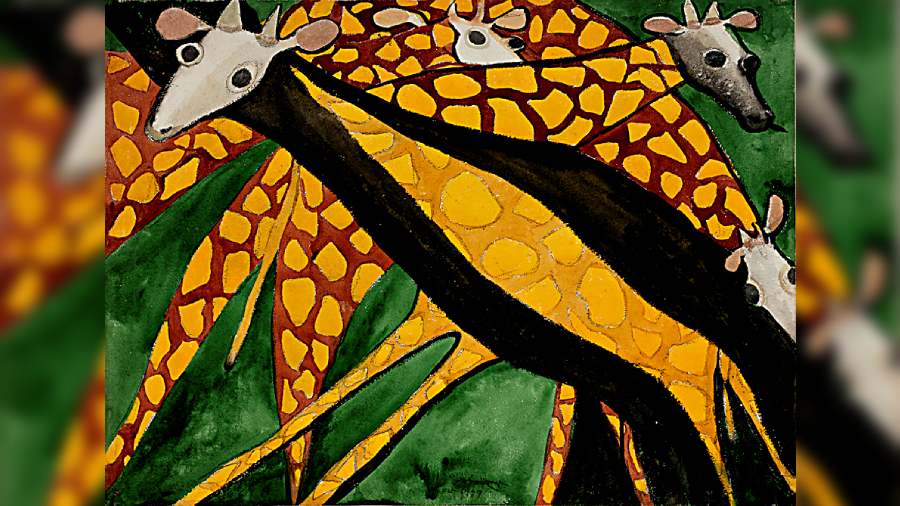 ---
Published 16.07.22, 04:01 AM
|
---
Kartick Chandra Pyne (1931- 2017) is a neglected artist. The amazing and puzzling diversity of his work is partly responsible for it. As was his defiance of the rules that dictate the art market, probably without even meaning to do so. This was proved again by the exhibition, Shades and Shine of Kartick Chandra Pyne (April 26-June 10), curated by Samit Das and held at Dhoomimal Gallery. Galleries started taking an interest in Pyne's art after September 2005, when his colourful painting, Bird in a Cage, sold at a Sotheby's auction in New York for $10,200.
Pyne, who was partially paralysed by a stroke in 1994, overcame his disability and proved to be quite productive. After all, he lived to paint.
Unlike his Bengal contemporaries, who gave vent to their angst, despair and frustration through their works, Pyne reverted to a world of innocence, dreams and fantasies that turned its back on the grim and savage realities of life. His forays into the liminal world of waking dreams were his way of clinging on to sanity.
Trained at the Government College of Art and Craft, Pyne's drawing skills are quite evident from his few surviving early paintings and figure studies. Initially, Pyne's colours were muddy or earthy, but later his palette became more pellucid.
Even if he did it unknowingly, Pyne, who was no rebel by disposition, seemed to push the limits of artistic expression by upending the received rules and tenets of composition, colouring and perspectival drawing. By exaggerating and distorting certain elements of the life that he saw around him and by connecting things that bear no logical relationship, Pyne was stepping into an imaginary space of incongruities and disparities that stood the realities of ordinary life on their head.
What a fantastic range of images Pyne had created. He often dipped into his memory for inspiration. Violently distorted, the image would end up looking as if Pyne had viewed it in a convex mirror, as in the case of the black and-white nude lying supine, its limbs twisted in knots. This also explains the caricature-like humans and animals and even vegetation, like the giraffes staring at viewers (picture).
Although there was nothing really shocking or disturbing about them, but by minor distortions of the ordinary and the commonplace, these apparently decorative images came a step closer to the realm of the fantastic. Serpents slithered and peacocks strutted around in a primordial paradise.
Pyne's sources of inspiration were quite maddening for they could be as disparate as Odisha appliqué, ivory, porcelain, clay and lac toys that most Bengali families had a collection of, besides the Edwardian bric-à-brac and heavy furniture that his well-to-do grandfather, like most wealthy people of those times, must have stuffed his home with. Since the idiosyncratic Pyne refused to paint pretty pictures and challenged our cherished beliefs of what paintings should look like, even though his experimentation was chaotic at times, it is well nigh impossible to pigeonhole him. It would not perhaps be wrong to posit that because of Pyne's unorthodox approach, his work came closer to 'outsider art'. Kartick Chandra Pyne may have been too gentle a soul to be described as a rebel, but through his intuitive artistic language, he, in his own quiet way, succeeded in interrogating our established views of art.