Sudip Roy's watercolours: Commonplace in both subject and skill
Roy's subjects are confined to the figurative, architectural, and what can be broadly described as atmospheric landscapes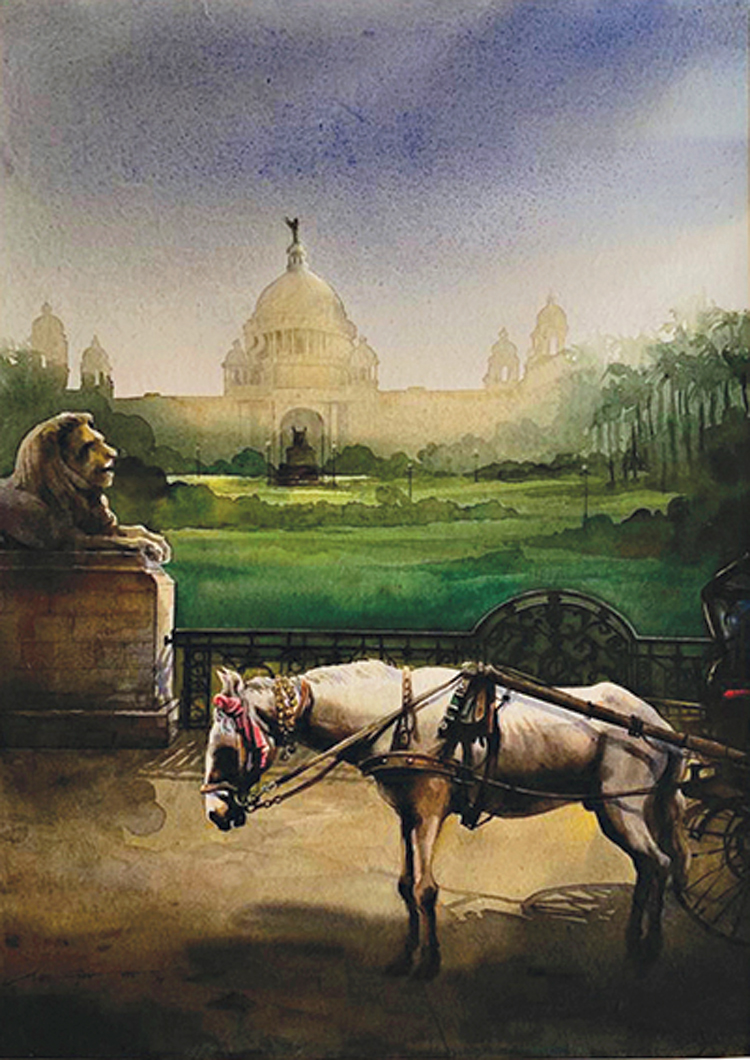 ---
---
For all the gravity of the title of his exhibition of watercolours, The Mystery within the Real (November 13-23, 2019), at Aakriti Art Gallery, Delhi-based Sudip Roy's watercolours were quite commonplace, both in terms of the subjects he had chosen and the skill with which he executed them. Roy was trained at the Government College of Art & Craft in Calcutta, and his craft is no better than that of any artist trained in this institution, which has not been able to shake off its colonial hangover. Roy's subjects are confined to the figurative, architectural, and what can be broadly described as atmospheric landscapes. There is hardly any mystery in the content of his works referred to in the title of the show. Yet, Roy is a highly popular artist and must be much in demand. This is a pointer, in general, to the tastes of those who visit art galleries.
So what are the "mysterious" subjects he paints? Well, Victoria Memorial Hall, which has remained a must for all photographers and artists ever since Lord Curzon erected it. It has to be said in Roy's favour that he makes no pretences at experimentation, for sure enough, a half-starved horse and the carriage it is yoked to are painted in front of the marble mausoleum, as it has been in countless snapshots. There is another painting of the famous enthroned statue of the corpulent monarch herself. Another favourite tourist spot.
Roy has not left out Mumbai either. Here his subjects are again colonial architecture, India Gate being one of them and some Gothic Revival. Perhaps he reproduces photographs with paint for there is another painting of a man on a bicycle carrying a humongous load of bamboo baskets behind him — a familiar scene in any Indian city. Then there is the country boat lying on the banks of a river with other such vessels silhouetted in the background. In the figurative mode is the barebacked woman, in the Hemen Mazumdar style, sans his talent. To top it all is Christ on the cross with the shadowy figure of Gandhi behind him. Roy's kind of symbolism.