Suburban theatre entrenched in community life at Alor Pakhi festival
THEATRE: Characteristically these performances were met with boisterous laughing and crying and voluble registering of approval/disapproval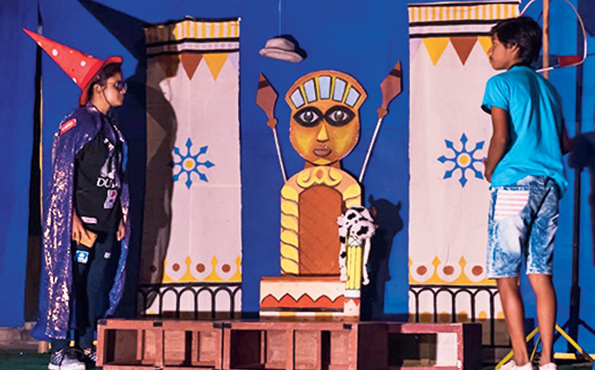 A moment from the play, 'Ek Je Chhilo Rajputtur'.
Alor Pakhi
---
Published 14.02.20, 03:20 PM
|
---
To this reviewer's mind, a crucial difference between theatre in Calcutta and that in the suburbs is that theatre in the city neither is nor can ever be as thoroughly entrenched in the matrix of community life as its suburban counterpart. It is the vigorous participation of local people of various ages, professions and persuasions in actualizing a suburban theatrical event that becomes its signature.
The 17th edition of the Alor Pakhi theatre festival (held in Duttapukur) was no different — a school classroom by day becomes performance space in the evenings, local businesses pitch in with financial support, the actors are home-grown, and significantly, most audience members are also active facilitators of the festival. With toddlers at one end of the audience spectrum and senior citizens on the other, the viewership demographic is distinct from that in Calcutta. The metropolitan protocol of consumption of performance that demands watching plays in civil silence interspersed with polite clapping is replaced here by boisterous laughing and crying and voluble registering of approval/disapproval.
Ek Je Chhilo Rajputtur (directed by Sunit Bhoi and produced by Alor Pakhi) is a socio-political satire intended to expose the tyranny and corruption of people in power. Exhibiting fine maturity, Bhoi handled his material with a lightness of touch so that the play, performed by children, was not weighed down by the gravity of the content. The deliberate, if risky, strategy of using doses of slapstick to convey serious messages actually worked quite well going by the enthusiastic response of the audience.
The main pull of the play, however, was the assured and fluent performance by the young actors, unhampered by the small size of the stage or by the awkward acoustics of the hall. Of the actors, Pramit (as Robi) and Bidisha (as King) stood out, performing as they did with their mind and body. The second Alor Pakhi production, Machhi (directed by Soumen Roy), adapted a Sailen Ghosh allegory to comment on the mindless caprice that often marks the conduct of our political masters, with the child actors stealing the show with their infectiously energetic performance.