Strumming a tribute to memorable characters
Remembering Bela Bose, Alibaba, Haripada, Samson, Mary Anne, Ronjona and many more who helped in strange ways from not losing hope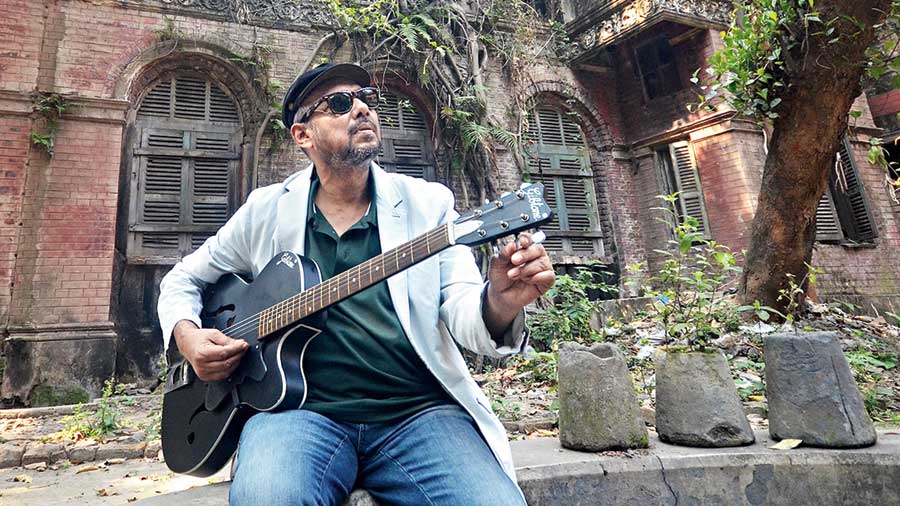 ---
Published 30.09.20, 12:40 AM
|
---
How much do you earn for cutting and skinning them?" I asked the lean, scruffy boy holding eight chickens by their legs, walking towards the slaughterhouse behind New Market, past Nizam restaurant. "25 paisa per piece," he replied casually. It's Christmas eve. The entire market area, including the slaughterhouse, was overcrowded and the boy was too busy to give me an interview. Yet I was late to submit my Monday feature story to the newspaper I worked for. It was supposed to be on a colourful New Market but the seedy backalleys and the lives of those behind the glitter seemed more interesting to me.
I chatted with the rickshaw-pullers of Sudder Street, wandered down Bertram Street to to talk with the fruit-juice sellers, bought a vegetable sandwich and went back to meet the boy at the slaughterhouse two hours later. He was having a bath at the roadside tap, washing away the bloodstains from his dark skinny body. I waited, to offer him the sandwich and asked him if I could talk to him about his family. "Buy me a red kite and I'll tell you everything," he said.
Birth of a song
The feature seemed interesting to my assistant editors but they cut out the boy's story because it was too morbid for a New Year article. Years later when I decided to write songs, the story of the boy came handy. Only I changed his name from Raka to Alibaba.
When I was forced to come away from my expensive boarding school in Darjeeling and had to adjust to my suddenly financially unstable family, I found solace in loitering around the dingy alleys of McLeod Street, Kyd Street, Bedford Lane and Ripon Street with all its crazy people desperately trying to etch out a living amid intense poverty that made me feel luckier than them. They were tired bamboo-flute or gas-balloon sellers in the desperate afternoon heat. Goan musicians trudging down Elliot Road to a fancy nightclub to get dressed up for the night gig. People trying their best to somehow live for another day. 
Bela Bose blues
When I had pleaded to my girlfriend, standing in a telephone booth, not to leave me for a richer boy with his motorcycle and she hung up, I didn't have a friend's shoulder to cry on. The haunting, old Park Street cemetery in the dappled sunlight made me feel better. I had no idea then that I would write a song about a telephone number years later that would not only make me popular but be heard for 25 years.
The day I, desperately tired of my unsuccessful career as an actor, decided to strum the guitar and write Bangla songs... it was those beautiful, sad memories of the backstreets of the marginalised, cosmopolitan Calcutta and its crazy characters that turned into songs. Songs that saved my life and career. So, today, at the age of 66, I feel it's time I paid my tribute to those characters who helped me in their strange ways from not losing hope.
Bela Bose, Alibaba, Haripada, Samson, Mary Anne, Ronjona, Jeremy's ghost… are not just songs but real people to me, who gave me the courage to grin, bear it and move on. Calcutta is more a city of "hope" than "joy" for me. It's a city where little people with their lesser joys and tears still exist in different names and places, to make it a beautiful place irrespective of the changes of time.
Had I not chosen to live in Calcutta, I would not have written these songs. My songs are about the experiences of my youth in a city and time that could not have happened anywhere else. The reason being, Calcutta is perhaps the only city that is old, poor, chaotic but charming. Despite the ravages of politics and time, it still has a certain middle-class morality and concern in the eyes of the ordinary people.
There was and still is a certain innate sense of wit in the ordinary Bengali somehow, from a fish seller, a local train hawker to a bus passenger, which I have never found in any other city.
I have seen child hawkers run across busy traffic, or jump on an overcrowded bus, risking their lives. I cannot but admire their spirit of adventure. Therefore my Raju, Rani, Rambo or Alibaba all celebrate the courage of these street children.
Genesis of Mary Anne
I came across a piece of news in The Telegraph 30 years ago, about an elderly Anglo-Indian woman called Mary found dead in her apartment. She happened to lead a very lonely life. I could not write a dark, depressing song. I felt I needed to celebrate this woman. It led to a foot-tapping Mary Anne. I have been a somewhat shy schoolboy in Darjeeling, been a loner in Calcutta during my youth. But there was joy and hope in that shyness or loneliness because of the environment. That is why despite the fun and humour and innocence, there is a hidden layer of melancholia in my songs that perhaps is touching.
Honouring a request
I once met a young woman crying at the Esplanade bus station. I was then a journalist returning with my senior colleague, a photographer. We enquired and found out she had left home to meet her schedule caste boyfriend she planned to elope with but he had not turned up. She had no money nor face to go back to her house in Behala. We spent a long time and some money to convince her to go back home.
Years later, when I became a successful singer-songwriter, one of my fans told me — "You have written songs in first person as a street urchin, a schoolboy in love, a drunk office clerk, a musician… you've played so many characters in your songs. Why don't you play a woman?" I found it rather challenging and the only woman that came to my mind was the one trying to elope at Esplanade. I did not want to think of her defeat but felt the need to talk about her courage. I became Roma. The song became an instant hit.
Songs for the unsung
I never felt inspired writing about success stories. Or songs about the affluent part of Calcutta or the very familiar sahibs of my Darjeeling. The Nepali ponywallah or the Land-Rover driver was much more fascinating. Or the little local boy of our school's junior staff who made me smoke my first cigarette. That does not make me any less bourgeois, because I am as far as my taste goes. Neither am I still interested in being politically correct, which I'm not.
My youth in the 1970s was steeped in student political unrest. But somehow this Calcutta has allowed and given me the space to be hippie in my mind and remain the unabashed middle-class, Anglicised Bong who can cut across the barriers of class, caste, religion and creed. To me Christmas is perhaps more crucial than Durga Puja or a holiday in Windermere, Darjeeling to Singapore or even Cairo. I have struggled as a theatre worker in Berlin. Travelled to the most fashionable international film festivals as a young actor and as a tourist to the best parts of Europe as a grown man and almost around most parts of USA with my band.
I have seen much of the planet that I live in and learn. But somehow for reasons which are deeply personal, I'd spend my Christmas in Calcutta rather than in London. The reason is in my songs — songs that have been loved and listened through generations by Bengalis who love their machher jhol and bhaat but would definitely go for their biryani on Id and the plum cake from Nahoum's at Christmas. That Bengali who has lost out in many ways and aspects but remains rooted to their multicultural habits. They may have left their beloved Calcutta to survive in Bangalore or Baltimore, but yearn for their afternoon singaras with tea.
So, at this desperate time and juncture, I am going back to celebrate those songs you have heard numerous times live, online, to flood you with nothing but memories of your city wherever you are.
We'll be performing those much-heard, much-popular, yet still valid songs of people of your city who perhaps still exist even today... to give that hope and courage to continue and survive despite the pandemic.
Let's catch up on October 18 with Bela Bose, Haripada, Dodo Tshering, Mr Hall, Ronjona, Alibaba, Mala, Jeremy… and many others who are symbols of hope during these desperate times. I, your 66-year-old Anjan and his band, would like to revisit, relook, rearrange those old favourites in a new way.
Connect with insider.com and collect your tickets from anywhere in the world. Hope you will feel rejuvenated in these dark times.