Sand artist pledges to revive dying art
Sand artist Sudarsan Patnaik, known for his social campaigns, was appointed president of the Odisha Lalit Kala Akademi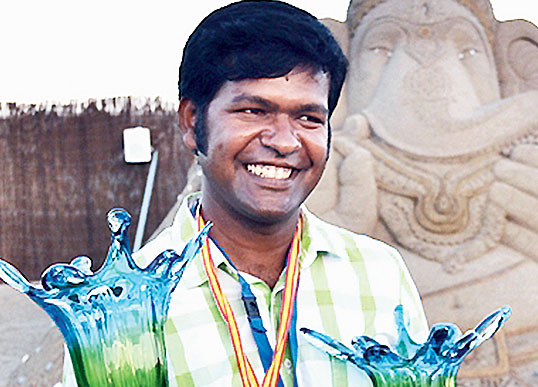 ---
---
Sand artist Sudarsan Patnaik vowed to take dying art forms to new heights as he was appointed as the president of the Odisha Lalit Kala Akademi on Wednesday.
"I seek blessings of Lord Jagannath to work hard with my team to take the akademi to a respectful level," he said.
The post had been lying vacant after sculptor Raghunath Mohapatra resigned following his nomination to the Rajya Sabha in July.
His name was selected for the post by chief minister Naveen Patnaik. Earlier, a selection committee headed by the vice-chancellor of Utkal University of Culture had placed three names before Naveen, sources said.
Patnaik told PTI: "I would like to thank the chief minister for giving me a chance to promote art and culture of the state. I will work to uplift the artists from across the state."
Patnaik affirmed that he would not only focus on issues related to the art from, but also assess and analyse various departments that needed attention and work accordingly.
"A number of art forms from rural areas are becoming extinct, and it is high time that we started promoting them. Apart from hosting events in Bhubaneswar, the focus will be to conduct small festivals in the rural districts," he said.
Patnaik is known for actively pursuing awareness campaigns through his sand arts over issues such as climate change, pollution, conservation and socio-economic developments among others.
He runs the Sudarshan Sand Art School in Puri and will start a campaign on the Puri beach to attract tourists ahead of the Men's Hockey World Cup in Bhubaneswar.
"A number of foreign and national players as well as tourists will come to the state during the international event, and it will be a great opportunity to promote both hockey and sand art," he said.
Although he has been a part of the akademi since the past year, he feels that with the added responsibilities, the job will be challenging.
"I am yet to attend office and understand its functioning. There will be challenges that I need time to understand and find a solution to," he said.