Rupam strums about his album 'Aami' with Amyt Datta
'What Amytda did with my songs with his acoustic guitar is something I don't think anyone else could have done'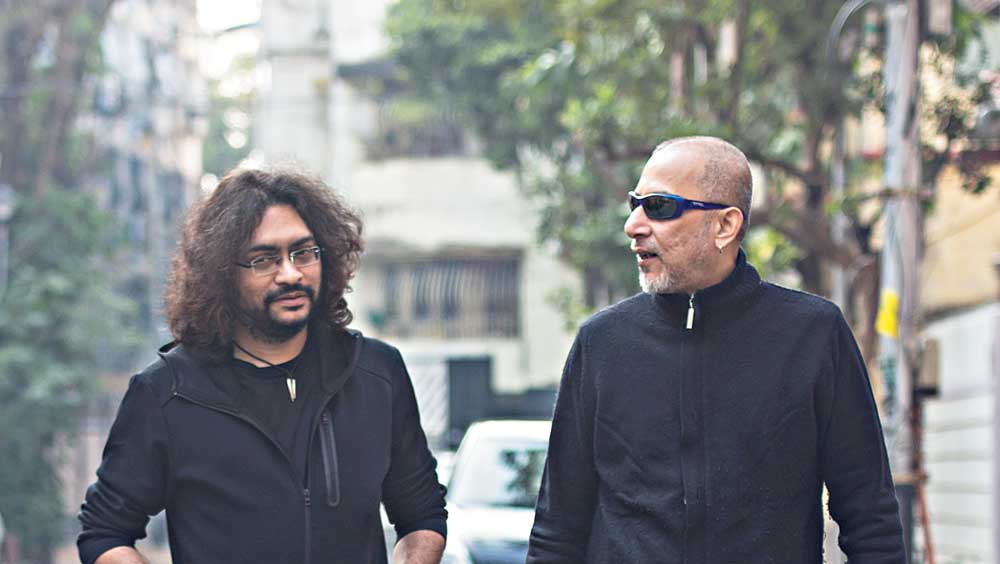 ---
---
How's the feedback for your album Aami?
It couldn't have been better. We released the album at the Book Fair and it will be a huge understatement if I say it exceeded my expectations. I had to re-print the CD thrice just during the Book Fair. The first lot got sold out in just two hours. The queue outside our stall was so long that the Book Fair authorities started complaining after the first two days. They had to give special police protection to our stall. They even said the footfall at our stall was more than the big names of the Fair on certain days.
It was my challenge to move away from the regular medium to the old CD format. Nowadays people listen to songs on mobile phones (on mobile phone speakers) and in the age of single song releases, people have lost the habit of listening to a full album at one go. A lot of thought goes behind deciding the order of songs in an album, and people don't seem to care about that anymore.
I have had people installing CD drives on their computers, buying a CD player or buying proper speakers and repairing old ones just to listen to this album. To the extent that two guys came all the way from Bangalore and Hyderabad for just a day to buy the CD. People have gotten family and friends to courier the CD to them in the US and Europe.
Now after a month we have released the album on only one digital medium — Apple Music.
What is the genesis of the album Aami?
It all started 22 years back when a record label approved my demo cassette and invited me to record an album for them. Before approaching any other musician, I went to meet Amytda (Datta) to produce the album. For many a reason it didn't materialise at that time. Last December, I had a chance meeting with him before going to Dubai for a concert where both of us were performing. There I told him, I was still interested in him producing for me and was waiting for that dream to come true. He agreed and asked, 'Acoustic album korbe?'. We met almost immediately and the album was ready in a month.
Why did you feel it necessary to collaborate with him?
A full-fledged acoustic album — that is something I had not tried in my recording career of 22 years. I work in a rock band, with excellent musicians, but we approach our songs mostly in an electric rock sound. So this album with Amytda became distinctly different from the very first go. What Amytda did with my songs with his acoustic guitar is something I don't think anyone else could have done. This album does have some electric sound but the basis of the album is essentially acoustic guitar.
What are the things that you discovered about Amytda during the recording sessions?
He can think and produce differently with the same songs. Initially he approached the songs with a simpler frame of mind. Once I expressed my desire to incorporate some wildness and include more experimentations, he readily agreed and happily explored in that wayward way. His thinking brought in a completely new dimension to the songs. Ultimately when we recorded the songs, most of the songs had three or more different sets of chord charts associated. We applied most of the chord progressions in different sections in the songs. The songs became musically as rich as possible.
What are your earliest memories of Amytda?
I went to watch Amyt Datta in 1994/95 when most probably he was performing with D for Brother at Max Mueller Bhavan. Kochuda was also performing. It was a fusion performance. I even bought the D for Brother album. He was a long-haired hunk at that time. That was my first introduction to the genius of Amyt Datta.
Have you been to his recent concerts?
I saw him perform with Anjanda (Dutt) and Neel at Dubai recently. It was a fantastic experience. Not just his guitar playing but his total stage presence is amazing. I love his cool and calm stage avatar. He has been and will be the Guru of the guitar generation I have seen.
Why the album name Aami?
I couldn't decide on a name for a long time, so I was just going through all the lyrics of the songs and suddenly it struck me that all the songs have the word (except for Boichor) 'aami'. And the album is a very personal one with just Amytda and me, so I thought it would be nice to call the album Aami keeping 'with Amyt Datta' as the tagline. All of the songs are strongly autobiographical in nature, as most of my work has been.
Elaborate on the cover art...
I was on a vacation with family and was not being able to enjoy the holiday since I could not decide on the album artwork. I started going through the Instagram account of our guitarist Deep when I saw these pictures. I thought they went very well with my album. I immediately called him up and got the high-resolution pictures sent to the designer. The cycle is a symbol of isolation and the closed door represents the hidden realms of one's self. The colour blue is again a favourite theme of most of my solo albums, an ode to the iconic 'Neel Rong Chhilo Bhishon Priyo', the album that could have had Amytda as music partner, but it never had.
Do you have a fave moment with Amytda while recording the album?
I don't think I can choose one particular moment. The entire experience was a series of fave moments for me and the recording and mixing engineer, Pom, who is also my bandmate nowadays.
Rupam on the themes of some of the songs on the album