Visions of a changing world
Of the 10 award-winners of Birla Academy's Annual Exhibition 2021, four explored landscapes as registers of interiority, ideas and ecological mapping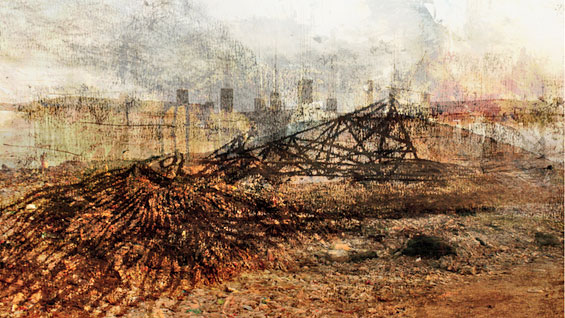 Lament of Destruction (No.27) by Ishita Adhikary
---
Published 13.11.21, 02:28 AM
|
---
Young artists still choose to say it with landscapes plenty of times. After all, didn't European modernism show how a simple view of nature could be shot through with a deeper vision, idyllic, expressionist or enquiring? Of the 10 award-winners of Birla Academy's Annual Exhibition 2021, featured in its recent show, Svikriti, four explored landscapes as registers of interiority, ideas and ecological mapping.
The one who seems to combine different strands of concern is Ishita Adhikary. In reworking photographs with drawings and digital intervention, she enriches her imagery with dense, craggy layers that invoke a post-apocalyptic terrain, where the background looks burnt out and the foreground is riven by charred lines (No. 27) (picture, top). The barren, torn land, laden with a toxic miasma, seems to have subsided into an uneasy lull that still seethes with the slow, insidious corrosion of a seismic devastation (No. 32). All sense of geographic reference is obliterated in a wasteland where condemned figures, reduced to spectral shells, bereft of substance and identity, plod along in a silent column behind what looks like a pyre (No. 30).
The Lament of Destruction is carried over into a video that is rooted in the high-decibel anxiety of these Covid times. While fragments of quick, superimposed images scramble and flicker on the screen, a police siren blares to signal the panic of an emergency. For there, on the floor of a darkened alcove, lie three long packages, all trussed up: "bodies" for burial/cremation.
Nothing so dire plagues Abhijit Sarkar's work. But the near-silence of Field Study, though not terribly original, reminds you of the United Nation's code red for humanity. This monochrome series of digital prints traces, through such low-key indices as cracked earth and tangled flowers, dry leaves and brittle thorns, a grim environmental testament. With subtly graded greys — of sea and sky, differentiated with a speck of black on the horizon — and the silhouette of twigs and a threadbare leaf, another work, Can't Escape into Space, is suffused with an elegiac grace. More assertive, even a little raucous, is Abhijit Das. Not only because he uses discards to build up an inviting tactility in his landscape — like wood shavings, netting, foil strips for medicines, creased paper and so forth — but also because there's a hint that garbage and its disposal are an environmental hazard. The United Wave is particularly noticeable for its sense of movement veering towards a vanishing point as a dark veil descends on the land. And in Prabir Kumar's Untitled (picture, bottom), a desolate topography, scarred by a close mesh of bristly, frenzied charcoal, suggests a dying earth.
On the other hand, Arindam Adhikary, whose skill in evoking subtle inflections of dimension, volume and movement was apparent in his entry for the Annual Exhibition, Transience, now profiles the topography of faces in Patients-III. If the nut-brown skin of its nine women looks sickly, covered in a rash of freckles, barely-noticeable deformities expose their vulnerability in a judgmental society. Yet, there's a matter-of-fact resilience to them as well that resists sighs. Though Bivas Paul's sharp irony can't be missed in a visual parable-like Dedication Towards Them with its elaborate spectacle, it's his earlier work, Kashmir Carpets, that retains the viewer's attention with its understated power.
Jarring juxtapositions — like the metal frame of a chair on a stack of rotis or on a wooden platform that imitates a cushion — are Partha Dey's strategy to put in place snide correlatives to overused political comments. While Padma Karmakar and Tushar Sahay are confident print-makers, the sculptor, Partha Saha, handles material like fibreglass with skill.