Mirror of the times
Sublime Tranferences is a largely monochromatic show with smatterings of blood red and rust brown, presenting a chilling picture of our times and the dystopic future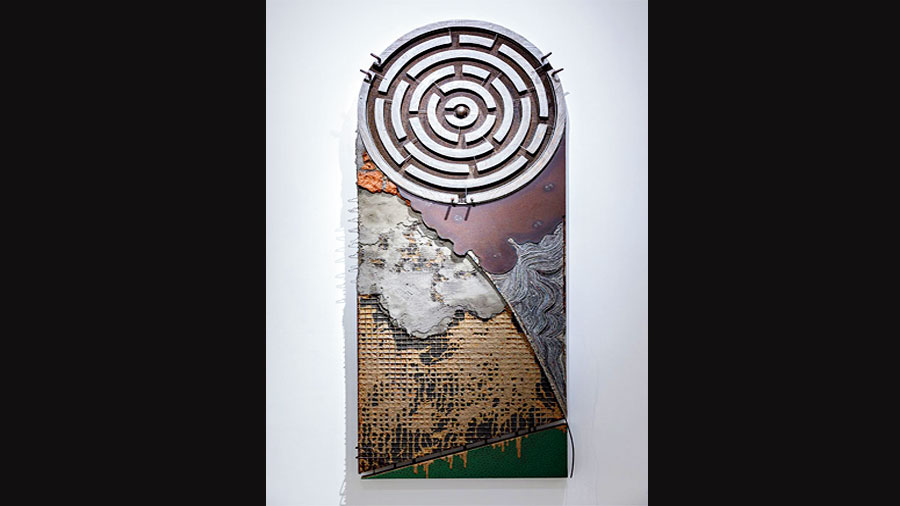 ---
Published 04.09.21, 12:01 AM
|
---
Artistic works are "responses to... pressing... needs of the time one lives in," writes Nanak Ganguly, the curator of Sublime Tranferences, an exhibition hosted by Emami Art recently. Indeed, the largely monochromatic show with smatterings of blood red and rust brown presented a chilling picture, both of our times and of the dystopic future that we are hurtling towards.
Take, for instance, Pushpen Saha's grim canvases: desolate landscapes with remains of human existence — abandoned earthmovers, scaffoldings, houses —covered in soot. A different kind of foreboding pervades Soghra Khurasani's Nightfall series. While nature here is untouched by human presence, there is a strange sense of menace in the air. Mani Murugesan pushes Nature to the very edge in the excellently textured Concrete - IV (picture).
No work of our times will be complete without depicting the plight of the migrant labourers or the atrocities perpetrated on students by the Delhi Police, and these are the scenes Apu Dasgupta turns to in his minimalist canvases. Srikanta Paul brings out the ugliness concealed within us, while Rima Kundu and Gargee Ghosh portray everyday brutalities that women face inside the house: the mundane kitchen objects are dripping with blood.  
Promiti Hossain and Vishwa Shroff lighten the mood with nostalgic dreams of an idyllic world and Anindita Chakraborty adds some levity with caricatured self-portraits inspired by masterpieces like Mrs Luke Ionides by William Blake Richmond.