The real spills into the illusory
Sohrab Hura, who was born in 1981 and is a full member of Magnum Photos, breaks down the boundaries that separate illusion and reality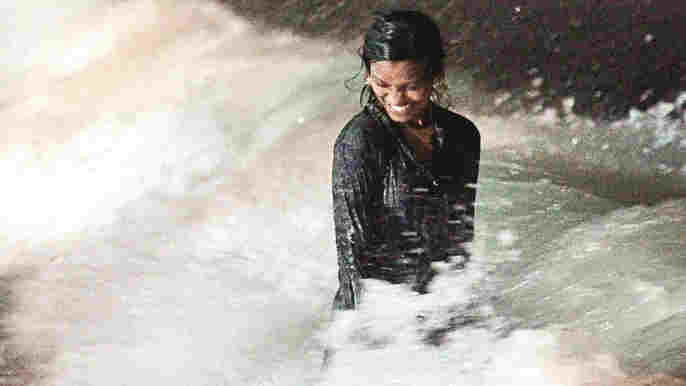 ---
---
Real or fake, we can make any message go viral, said Amit Shah to the Bharatiya Janata Party's social media volunteers. This quotation, part of Sohrab Hura's exhibition, Spill (November 7, 2020-January 2, 2021), at Experimenter Ballygunge Place, is a key to a deeper understanding of his gripping videos and new crop of images (mostly vertical) in gaudy colours that cause shock and awe, quite in keeping with their apparently disturbing and violent content. They are in striking contrast with Hura's earlier black-and-white captures that were equally, if not more, powerful in their tender yet uncompromising treatment of his mother's mental illness and the documentation of his travel to a dry-as-bones village in Madhya Pradesh in his student days, all displayed in this exhibition. The last room in which Shah's comment, other recent outrageous utterances of BJP leaders and improbable news items are displayed also features the Cyclopes Hura has made out of his self-portrait (possibly), water spouting in reverse direction (illusory) and a pair of trousers on the floor (referencing his mother's domestic chores), all indicating visual manipulation and the deception around the way we 'look' or are made to look, thereby confronting the viewers, as it were, with the smoke and mirrors the ruling powers use to flummox the citizenry.
The viewer is in for a shock as he comes face to face with the crowded and crammed wall of Hura's visceral images, with their cacophony of pulsating colours, lurid sex, bloodletting and nightmarish visions, their theatricality ramped up by the flash. Even nature's most beautiful creations, such as flowers and birds, turn into phantasms as Hura aims the blinding light of the flash at them.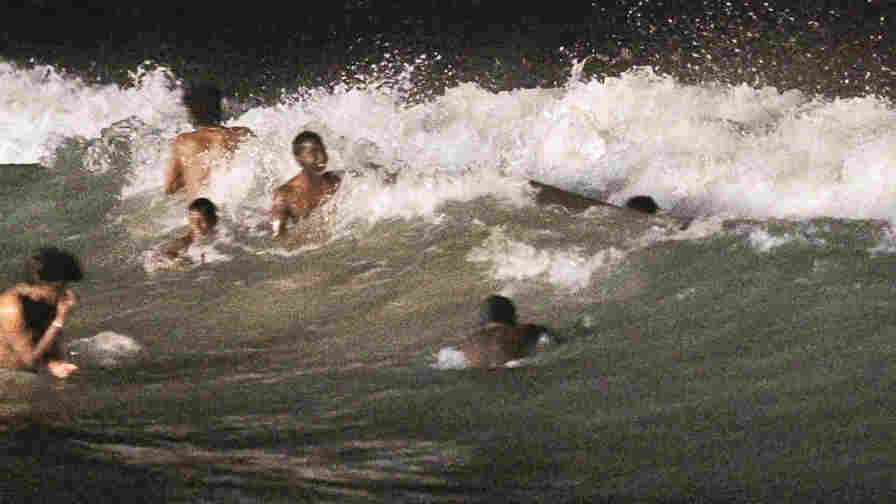 A trance-like state engulfs his video, The Coast (pictures), installed in the same room, of a group of men, women and children bathing in the dead of the night in a dark, mysterious billowing sea, its vast, heaving waters topped by spumes of waves. As Spill, the title of the exhibition, suggests, Hura, who was born in 1981 and is a full member of Magnum Photos, breaks down the boundaries that separate illusion and reality. In a tiny adjacent space plays the video, The Lost Head & The Bird. It has a thundering soundtrack and an eruption of in-your-face 'found' images, including footage of historic events. It is based on 12 variations (slight inflexions) of the micro-story of the same name that is about a woman whose lover had stolen her head just as a fortune teller had predicted. Part of a strategy to spread disinformation. By some trickery, the naked back of the woman (perhaps) appears headless, and this image appears like a leitmotif in the video and the wall as well.
From this high pitch, the images segue into subdued and more contemplative notes as Hura takes us to his past projects. Even when his camera focused on the pain of his mother as she gradually recovered from schizophrenia and their pet dog was stricken by a fatal illness, it never averted its gaze in these gut-wrenching frames. Sohrab Hura's records of his trip to Pati in Madhya Pradesh are grim and grainy. Yet they capture the rhythm of life and the energy of the village people so spontaneously that they gain a lyrical poise, in these prints at least.