Swansong of a versatile artist
Mention must be made of the three young actors, Chandrakala, Drasta and Paulomi, who carried the play on their shoulders through their brilliant singing and impeccable sense of timing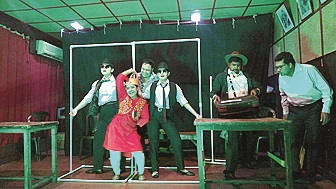 A moment from the play.
Dipankar Sen
---
Published 04.12.20, 11:58 PM
|
---
The nightmarish 2020 has dealt Bengali theatre a body blow by abruptly removing Prasenjit Bardhan from the earthly stage. The punishing schedule and rather inexplicable death of this actor, choreographer, and director underline the sad fragility of lives led in theatre. On November 22, days after Bardhan's demise, when the curtain went up for Sangshaptak's KKK, his directorial swansong, the mood was befittingly sombre.
But as the play overcame a somewhat nervy opening to trundle smoothly along, there was an unmistakable lifting of the spirit. For this, significant credit goes to Bardhan himself, because he took utmost advantage of being both adaptor and director. Taking Sibram Chakraborty's story, "Kolkey Kashir Kando", and dramatizing it into KKK, Bardhan made certain that he had a number of performance elements to play with, such as employing elements of the burlesque and using snatches of Hindi film songs to create comic counterpoints to the main action. But the most noteworthy innovation has to be the layered structure of the performance, where zonal actions unfold simultaneously. Amidst all this, the light-hearted fun of Chakraborty's yarn was enhanced — for example, by peppering the play with literal performance equivalents of Bengali phrases such as "chokher opor chokh rakha".
Mention must be made of the three young actors, Chandrakala, Drasta and Paulomi, who carried the play on their shoulders through their brilliant singing and impeccable sense of timing. The light design came across as messy, and understandably so in an off-proscenium setting for a play made for the proscenium stage. Bardhan is no more, but his presence will remain stamped on KKK, which will go down in the annals of Bengali theatre as bearing his directorial signature in high-resolution clarity.