Twilight zone
'Of Liminal Beings and Other Spaces' invites artists and, in turn, its viewers to explore and break binaries such as past/present, colonizer/colonized, male/female, fiction/facts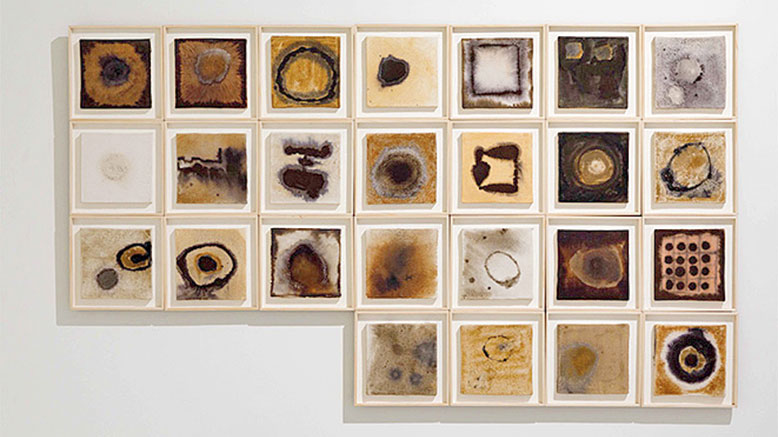 Untitled (Suite of 25 works) by Maksud Ali Mondal.
Emami Art
---
Published 09.10.21, 12:51 AM
|
---
Liminal beings are those that cannot easily be placed into a single category of existence — they are ambiguous and challenge social classification. The exhibition, Of Liminal Beings and Other Spaces (held recently at Emami Art), invites artists and, in turn, its viewers to explore and break binaries such as past/present, colonizer/colonized, male/female, fiction/facts and so on.
Arpita Akhanda, whose family migrated from Bangladesh during the Partition, probes the role of the past in shaping her identity. Her inquiry is especially poignant in the installation, The Last Leap: 101 Ways of Crossing, where she enumerates the ways of and difficulties in crossing a barbed wire fence. The Torn Remains of Past inform Prasanta Ghosh's works too, but his aim is to sift fact from fiction and show how thin and evolving — at times even invisible — the threshold between the two can be.
Equally fluid are the ideas of gender. Debashish Paul's intriguing 'sculptural costumes' are ornate armours of sorts, captivating viewers in a way that leaves the gender identity of the ones being viewed immaterial. Arshi Irshad Ahmadzai, on the other hand, shows that even those grouped under the same gender are not a homogenous group — she juxtaposes text and image beautifully in her scroll-like artworks that examine the role of women, particularly those that are trapped within religious orthodoxies.
Maksud Ali Mondal zooms in to look in microscopic detail at life forms that are invisible to the naked eye (picture). In interesting pieces made with found objects, he creates slides with Rorschach-like blots that shape-shift with changes in light and perspective — these transformations highlight the cycle of life and death, opening up a twilight, in-between world in the process.
'In-betweeness', then, is the only constant in life — it also ties together the diverse artworks and practices of the six artists in this show.