Real promise
A narrative about a small-town girl struggling to gain a foothold in a city — working in a shopping mall, living in shabby, shared accommodation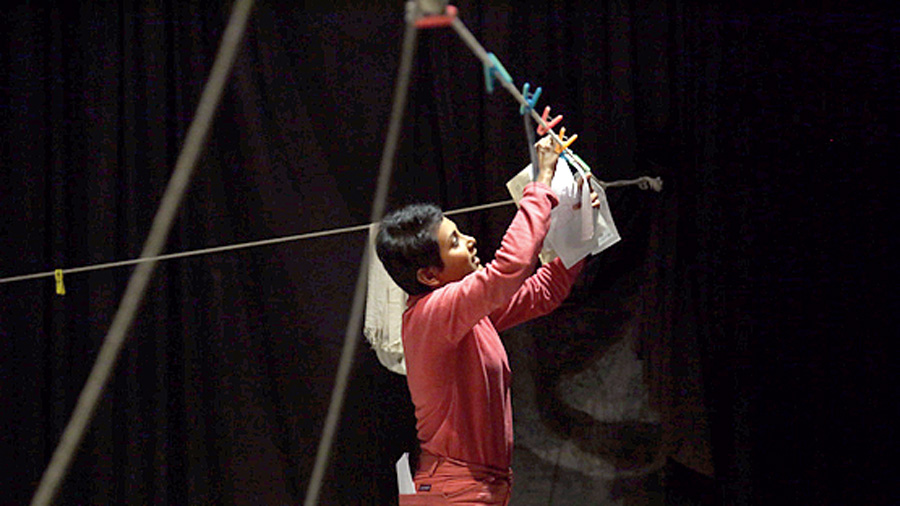 A moment from the play.
Dipankar Sen
---
Published 07.11.20, 01:29 AM
|
---
An earlier review in this column had claimed that Gobardanga Naksha's own performance space holds promise of birthing fresh, exciting theatrical productions. It can be safely said that Yes!, a monologue designed and performed by Naksha's Bhumisuta Das, amply fulfils that promise. Going by the finesse marking both concept and execution of Yes!, it can be further said that the talented young Das, trained at the National School of Drama, seems poised for a distinguished career in theatre. 
A narrative about a small-town girl struggling to gain a foothold in a city — working in a shopping mall, living in shabby, shared accommodation — Yes! is easily the story of millions of young Indians migrating towards urban centres, irresistibly lured by the mythical good life promised by global capital. And when the girl's life comes crashing down as a result of a video of a private moment, surreptitiously shot and circulated on social media, the event itself and the concomitant trauma resonate with the audience, especially girls and women, most of whom are experientially aware of the increasing pervasiveness of online harassment. 
However, Yes! scores not so much through the narrative as by the telling of it. Stringently contained in her performance, Das never lapses into melodramatic over-representation. The performance space is a squarish area (marked off with a length of rope), suggesting the protagonist's room. Driven by text and aware of the semiotics of the performance arena, Das uses the corners, the centre and the depth of the space meaningfully. The moon painting, left whimsically incomplete initially and finished towards the close, is an inspired piece of meta-performance drawing attention to the supreme importance of theatre happening in the instantaneous moment. The bicycle and the sewing machine, connoting motion and creation, remain cogent symbols of an older way of life to which the protagonist must return after her dream of city life has ended. 
The precise, poignant light and sound designed by Barun Kar and Vishala R. Mahale respectively are assets well-utilized by Das. The explosive flourish with which Das's character dismantles the rope-structure to signal her breaking free connects to many such unlockings of the spirit, including Nora's in A Doll's House.